Freeware Garden: Mango Blue
An orangutan odyssey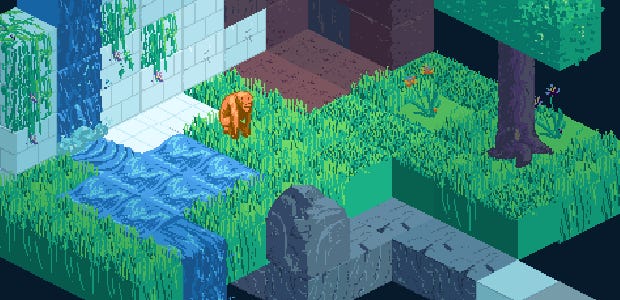 I know there are hundreds of brand new, great and absolutely wild games to be found over at the latest Global Game Jam, yet, having played through more than a hundred, I couldn't help but urge you to take a look at just one for now. The short but excellent Mango Blue is well worth your time.
Looking for more free games? Check out our round up of the best free PC games that you can download and play right now.
For starters, it looks absolutely lovely, with its colourful isometric graphics, and a hefty and truly woolly orangutan as its protagonist. I do love orangutans. Even when they aren't humorous librarians, Mango Blue shows that they can make for brilliant heroes. This particular orangutan seems to be trying to escape from a lab.
Making a run for it involves a not particularly traditional combination of pointing-and-clicking, platforming, puzzle solving and the reading of walkthroughs, which the game is kind enough to provide for itself. Yes, walkthroughs.
Mango Blue introduces incredibly obscure puzzles you cannot hope to solve on your own and builds an incredibly smart, fourth wall breaking walkthrough mechanic that has you discovering pages filled with hints in order to progress. Innovation and humorous effect aside, this is a brilliant idea, expertly implemented and is reason enough to play through the game.
Besides that, the surreal world make this fun and unique experiment an absolute joy to play through. There's also a rare chance to play with the colours of squids.