Freeware Garden: Mussel
Rhythm shooter.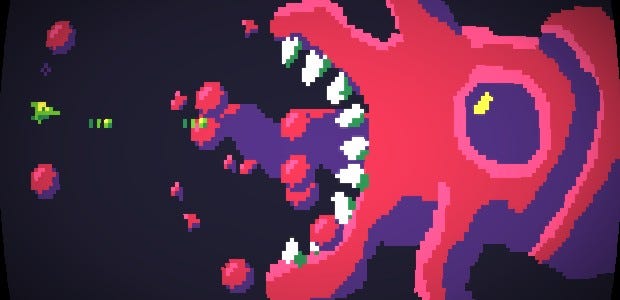 In the case of Mussel, mussel stands for Miniature Underwater Strange Squid Eradication Liner and not any kind of bivalve mollusk with a brown or purplish-black shell. It is the name of the underwater fighting vessel you'll be piloting in the shiny new indie shmup by brothers Jonathan and David Whiting.
Mussel is a game designed around a thumping musical track. A shooter/rhythm game hybrid that is surprisingly successful in getting you into the zone and providing the musical cues you'll need to blow tons of enemies out of the sea.
It's a noisy, hectic offering for Windows, Mac and Linux that drops your little submarine in an oddly bright abyss where survival depends upon your ability to quickly shoot chunky pixels in all sorts of forms. Porcupine fish, squids, jelly fish and even mussels are out to get to you and you have to, well, get them instead.
This is easier said than done, of course, as Mussel is brutal and gets even tougher with its recoil mechanic that makes shooting and moving less fluid than you'd want it to be. Deciding whether to go guns blazing or attempting to shoot short, controlled bursts is a tactical decision.
Simply making it through the underwater tunnels formed by moving, shootable rocks should be considered an achievement, and making it to the first boss is quite the triumph.
Looking for more free games? Check out our round up of the best free PC games that you can download and play right now.