Freeware Garden: Naut
Care for Naut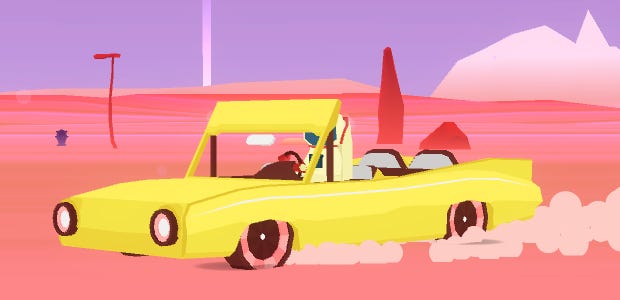 Is there life on Mars? Well, my theory of a billion fully evolved micro-universes under each Martian rock may have yet to be proved, but one can always form brand new theories by downloading Naut and driving around the sandy plateaus of the planet in a brightly and randomly coloured '50s convertible.
Looking for more free games? Check out our round up of the best free PC games that you can download and play right now.
Naut is a rather unexpected Mars exploration sim that starts off with you leaving your suburban, low gravity house and embarking on a road trip to the tunes of a jolly piano soundtrack. It will be a magnificent trip indeed.
There are no goals here, only aimless wandering of the highest caliber through a vast, surreal and very colourful desert. It's a place filled with McMansions and their odd residents, alien flora, sneaky rocks, wild topography and cars. Lots of cars. Cars you can drive around in even if they get flipped upside down, which will inevitably happen.
The driving physics are appropriately odd and the draw distance irritatingly short and thus Naut's cars are quite strange to control, though you can always pointlessly honk or even decide you'd rather stroll through the landscape and enjoy the day-night cycles, the weather and all those majestic things the game has to offer on foot.
Better yet, ask a friend to join you in split-screen co-op and frolic together in a world that's definitely worth exploring.