Freeware Garden: Orion
Desert Space Bus.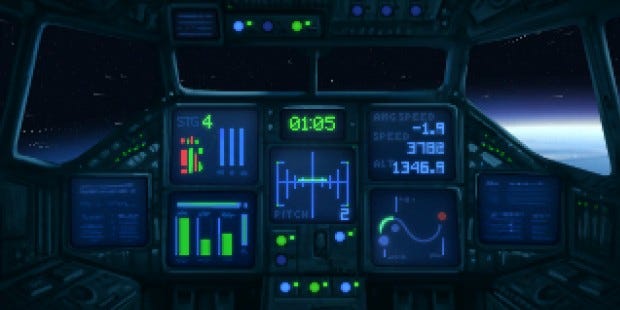 Ludum Dare 31 has just begun and its theme is all about fitting entire games in a single screen. Developer feiss has made the most of the space by effectively fitting a sizable part of our solar system in one button-filled screen. Orion is a space shuttle sim, it evokes of old MS-DOS space sim Shuttle.
Looking for more free games? Check out our round up of the best free PC games that you can download and play right now.
How can a simple little game about travelling from Earth and into the solar system achieve a flavour of realism without getting fiddly? With the ingenious use of buttons and switches, that's how. Dozens of buttons, that do anything from turning on power and loading fuel to checking systems and rotating service structures, have to be pushed in the correct order following the commands of a handy control centre.
And after the shuttle launches the find-and-click-the-button routine goes a bit of Penn and Teller's Desert Bus, as you've now got to try and maintain the shuttle's pitch at zero without getting distracted by how wonderful everything looks and how excellently everything works.