Freeware Garden: Rocket Smash ex
Jetpac-Man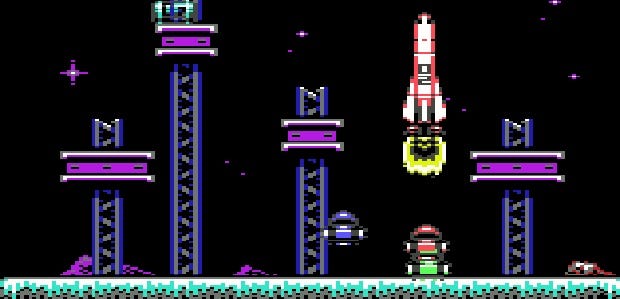 Though obviously an homage to Ultimate Play The Game's classic Jetpac, Rocket Smash ex is far from a straight retro remake or a Commodore 64 port of the venerable shoot-'em-up. It is instead a brand new and excellently arcade-y shooter with contemporary design sensibilities that's been coded for the C64 and repackaged for Windows thanks to the 8-bit focused efforts of (the wider) team RGCD.
Looking for more free games? Check out our round up of the best free PC games that you can download and play right now.
The game, initially a competition 16kb release, follows Jetpac's design general pattern. You'll assemble a rocket that comes in kit form, refuel it and shoot a wild selection of pixelated monsters and meteors before your oxygen supply runs out, or you progress to the next stage.
Added to the ever popular mix of aliens, meteors, rockets and lasers, you'll have to work alongside a psychotic computer boss that hates you, and will possibly meet a rather exotic alien princess. If you are incredibly lucky you might also run into a hidden Easter egg game by chip musician 4mat.
Even if you fail to reach its more mysterious parts, you'll be happy to know that Rocket Smash ex is a solid, beautiful and polished retro single screen shooter. It comes with a story mode, three difficulty settings, several levels, pixelated cutscenes, and some properly silly ideas regarding travelling, fighting and working in space.