Freeware Garden: Tokyo 1923
Visiting the Great Kantō earthquake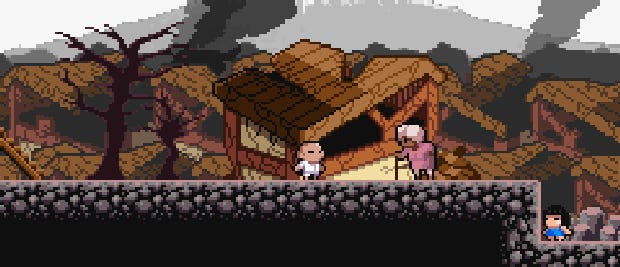 The Great Kantō earthquake of 1923 brought about an almost biblical kind of destruction. It devastated Tokyo, Yokohama and their surrounding areas, killed over 100,000 people and paved the way to fascism and ethnic cleansing.
Tokyo 1923 is a game about said earthquake.
Looking for more free games? Check out our round up of the best free PC games that you can download and play right now.
Despite being a puzzle platformer with relatively cute pixel-art graphics, this is not a jolly game. Not in the least. It has, after all, been inspired by Akira Kurosawa's experience with the catastrophe and his ideas about solidarity, desperation and coping with tragedies.
Tokyo 1923 may be interesting, well crafted and enjoyable to actually play, but its aura of desperation is almost palpable and the offered glimpses of hope rare. And that is why helping survivors stand on their feet, live another day or reunite with a lost child feels so very good.
Oh, and if you must know, atmosphere and theme are not all Tokyo 1923 has to show. It is a solid exploration platformer with subtle yet effective storytelling elements, that lets you switch between two characters with different abilities to solve puzzles.