Exclusive: Frontier's The Outsider Cancelled?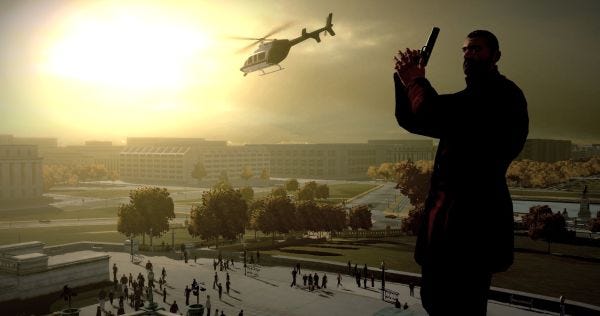 Rock, Paper, Shotgun has received word that David "Elite" Braben's much vaunted next game, The Outsider, was apparently cancelled yesterday.
Edit: David Braben has confirmed to us that development on The Outsider has ceased, explaining that it was due a "change [in] priorities" with regards to unannounced projects, telling us that he is "very sad" about the resulting redundancies. The full quote is below.
Edit edit: Braben has since claimed to Develop that, "There is still publisher interest in the project, and we haven't cancelled it." So it's all a bit confusing. We're currently trying to establish what "changed priorities" actually means, and have got back in touch with Braben for clarification.
Announced in 2005, Frontier Developments' game was to be set in the present-day Washington, with you playing as a CIA agent who ends up a fugitive. Then put in an open world you would have been able to make your own decisions about how to continue, the game proposing to break some storytelling boundaries. It was intended to bring the freedom of Elite to a third-person action game, boasting an impressive new graphics engine, and proclaiming "genuine freedom" for the player to define the narrative. But our source close to the project claims that it is no more.
Struggling for a while to find a publisher to support the rest of its development, a recent tentative deal with EA reportedly fell apart very recently, with the source alleging that the game was canned yesterday.
Initially self-funded by Frontier Developments, the game was then signed by Codemasters. However, the publisher dropped the game a while back, leaving it once more seeking financial support. The aim was to release the game at the end of 2011, and required funding to get there. Recently, the source claims, a deal was "almost settled" with EA, assumed by the team to be a sure thing, with the team working under EA's direction for a few weeks. But he alleges that this has recently fallen through, leaving the project in a situation where it can no longer continue.
There have, he claims, been relatively few lay-offs. Late last year 12 people lost their jobs, and yesterday a further 17 reportedly found out they were out of work. If true we wish them well, and hope they swiftly find new positions.
This of course does not bode well for hopes of Elite IV. An awful lot of Frontier's own money has perhaps been lost in The Outsider, meaning the studio is unlikely to be in a position to start work on yet another enormously ambitious project. Kinectimals money will likely keep them going, but it's hard to see them taking another gamble very soon.
We wish all the best to all at Frontier. It's a real shame, as the ambition on display in The Outsider would not only have been a treat to play, but only further gives concern to the theory that it's too much of a risk to step outside of the traditional AAA boundaries.
We approached David Braben for comment, and he told us,
"We have had to change priorities because of requirements on other unannounced projects. Some people have been moved, and we are very sad to have made some people redundant."
Here's what the game would have looked like. We hope its ideas go on to be explored somewhere.