Key reseller G2A launch first own game, a VR theme park
No cheap keys for it yet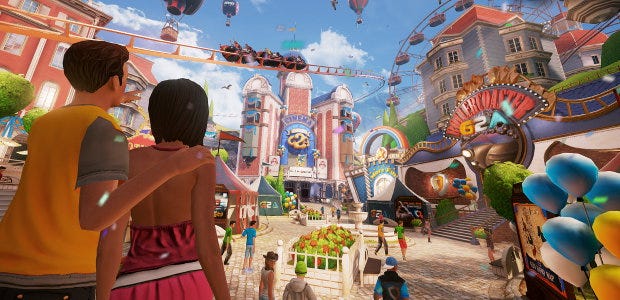 G2A, the game key reselling marketplace once accused of facilitating a "black market economy" partially fuelled by credit card fraud, have release the first game from their own in-house development studio. G2A Land [official site] is a BioShock Infinite-lookin' virtual theme park for Rift. It's a grab bag of VR experiences, including a roller coaster, a virtual cinema, and a pretty-looking undersea tour. G2A's move into actually making games is a curious one, especially with their focus on VR.
G2A Land's attractions are a rollercoaster rolling over the park, a shooting range, a pretty underwater guided ride, a cinema to watch stuff in cyberspace, and an unbranded Batman Batbike knock-off experience. The park itself reminds me of BioShock Infinite's city of Columbia, making the rollercoaster winding over its rooftops quite confusing. I don't think it's full of virtual racists, mind.
G2A are also making Blunt Force, a World War 2 FPS for cybergoggles. They're clearly set on VR, which seems curious to me given how niche VR still is, but I suppose they're taking a calculated gamble on future growth and getting in early.
They're not a small company, to be clear; G2A's website says their team numbers over 700. I suppose there's a fair bit of money in taking a cut of selling games cheaply by not asking too many questions about where keys come from. G2A have started trying to reach out to devs more, such as offering a cut on sales of their games through G2A, but even that seems a gesture which quietly acknowledges something's iffy about their model yet hopes a little cash will help devs accept it.
G2A Land is £7.99/$9.99 on the Oculus Store. I've had a look but can't find keys cheap on G2A or other key resellers yet.