Game Freak's Giga Wrecker Now On Early Access
That cyborg life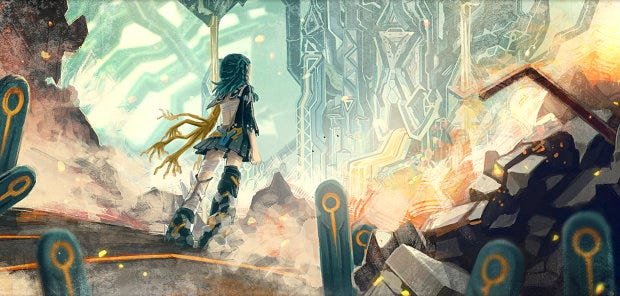 Game Freak, the studio who brought you little games like Pokémon, have a new game out this week on Early Access. It's a 2D action puzzle'em up called Giga Wrecker [Steam page], in which you take on the role of an aqua-haired cyborg lady exploring a world invaded by a host of malicious robots.
Cyborg woman is quite handy, it turns out. She has the ability to turn bits and scraps she finds lying about to manipulate the world around her. Each of these weapons, some of which include blades, javelins, and drills, has their own unique power. You'll need to diversify your arsenal to fully explore each stage of the game, as every weapon can affect the stages differently. This is truly a game of environmental puzzling and platforming and knocking things down.
Giga Wrecker, Game Freak's first Early Access title, follows in the wake of the company's first PC game, Tembo the Badass Elephant, which released just over a year ago. Tembo, too, was a 2D platformer, although more in the vein of a side-scroller than a physics puzzler.
It's still early days for Giga Wrecker, but the team will be adding more content as the development cycle progresses. Right now, Game Freak are aiming for a January 2017 release, but of course that is subject to change. You can buy Giga Wrecker on Steam Early Access right now for £10.99/14,99€/$14.99.