Gaming Is Good For You! (If You Pick Out The Good Bits)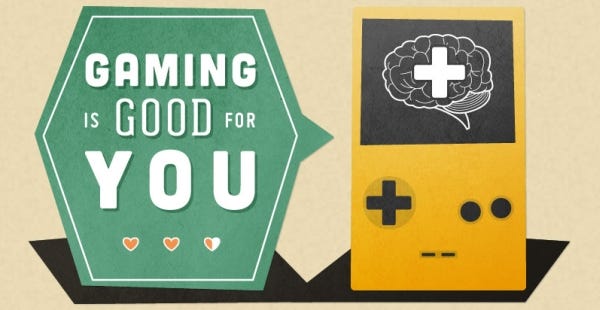 After yesterday's discussion of the perceived/imagined dangers of video gaming, and so many before it, it's good to take a look at what good gaming can do. That's what 'Frugal Dad', Jason White, has done on his finance blog. You can see it below.
It's pleasing to see something like this coming from a site that's otherwise not to do with gaming, from someone without an agenda in the business of gaming. In fact, he's a dad with kids he worries spend too much time with games, and decided to look into it. Written for a small-c conservative finance site. This is what he found:
Source: Frugal Dad
Clearly these are very selective numbers, reporting only the good news, ignoring the bad. Take a statistic like, "76% of married couples said playing MMORPGs together had a positive effect on their marriage" - well, that means that 24%, 1 in 4, found that playing MMOs had a negative effect on their marriage. It's how you spin it, and I'm pretty sure that opposite version would make for some fairly hefty headlines.
Actually, follow that one stat backwards and you can see some significant agenda shifting. In this infographic we have:
"76% of married couples said playing MMORPGs together had a positive effect on their marriage"
Frugal Dad sourced this from Slate, where it was reported with the headline:
"How Playing Online Video Games Can Help Your Marriage"
But revealingly the URL for the story reads:
"mmorpg_like_world_of_warcraft_can_help_or_hurt_a_marriage"
And they got their story from a study by Brigham Young University, who headlined their findings:
"Online role-playing games hurt marital satisfaction, says BYU study"
That's quite the game of Bias Telephone.
In fact, go to the source and you'll find rather less comfortable information, like how if only the husband (the survey only featured heterosexual couples) plays MMOs, then you have rates of over 70% saying the games hurt their marriages. Look deeper and it seems this might actually be something defined by whether couples go to bed at the same time - something that's less likely when one is raiding at all hours.
In other words, we always need to be applying the same level of scrutiny to facts that seem in our favour as we do those that go against. But don't let that stop you printing out the infographic and using it to win arguments.