Mo' MOBAs: Gearbox Announce Battleborn
Bornbattle Crybattle Warbattle Battleblood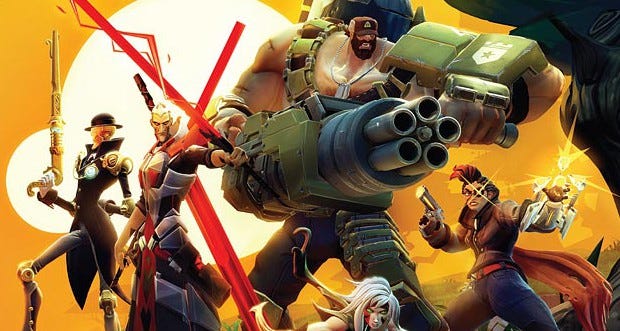 Hello everyone, and welcome to another exciting episode of "It's A MOBA But..."! Today's mystery game is Battleborn! It's coming from that Borderlands gang Gearbox Software, and certainly not to be confused with Bethesda's BattleCry, From Software's Bloodborne, or Battlezone. Now we're all settled, our first round is, as ever, Name That Twist! So, is Battleborn's twist:
a) destructible voxel terrain,
b) a first-person view,
or c) it's a roguelike?
If you guessed b, a first-person view, congratulations! You're going home with a fabulous Jet Ski!
I'm being a little fair unfair. Battleborn also has a co-op campaign. That's unusual for a MOBA. It doesn't seem to be free-to-play either. The announcement is a big exclusive for Game Informer, who basically say it's a first-person MOBA with characters from all sorts of wacky worlds who fight against each other in 5v5 or together in 5-player co-op. They're saving more details for their month (month!) of exclusive stuff.
Here's the cinematic announcement trailer:
If you want to hear more about the game, you can scrape small details from this video with Gearbox talking heads. "We took it upon ourselves to see if we could be creative again in the way that we had been back for Borderlands 1," says one. Welp. However, it does show game writer Aaron Linde doing some top fake-writing for the camera.