Giveaway: 20 copies of stealth horror Hello Neighbor
Enter for a chance to win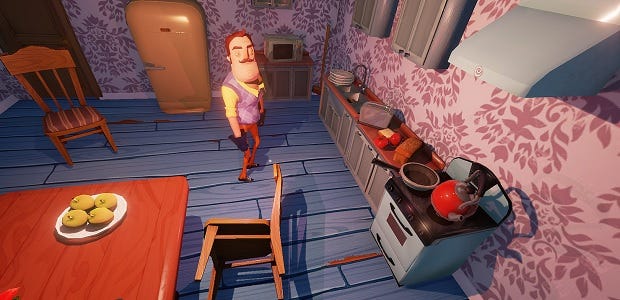 Hello Neighbor [official site] casts you into the role of home invader, as you go breaking and entering into the house of the man who lives across the street. Only, the man is prepared: he'll lay traps around the house in wait, and will prowl the corridors looking for you while you hide in his cupboards. Think of him as the alien in Alien: Isolation, and you as a particularly brave robber.
We've got twenty copies to giveaway, which you can have a chance at nabbing below.
Here's a trailer:
And you can have a read of Adam's thoughts with an early alpha of the game here.
For now, an alpha of the game is what you'll get to play should you win one of the codes below - alphas 1 through 4, in fact, should you wish to chart the game's progress through development. Your code will also give you access to the finished game when it releases. The alphas are part of the game's pre-order offer, which costs £22.99/$29.99/29.99EUR.
We're running this giveaway as a raffle. Entering via the widget below, which can be done multiple times, enters your name into a big virtual hat. Next Tuesday we will draw twenty names from this virtual hat with our virtual hands and then send the winners a key via email in the days after. There are three ways to enter: subscribing to our YouTube channel, following us on Twitter, or through Facebook. The latter requires a Facebook account and granting some permissions to the Gleam app; sorry, but this is necessary to stop bots and key resellers stuffing the ballots (or at least reduce the number of them).
RPS Compo: 20 copies of Hello Neighbor

Gleam don't use your data for anything else and you can remove the Facebook app's permissions after entering. RPS won't use your email address for anything other than sending you your key should you win, and we toss it away into the ether after 30 days. If you already follow us through the above services, that's OK, the app will recognise as such and still count your entry.
How to redeem your code
1. Go to GOG.com and either sign in or register for a free account.
2. Go to the code redemption page and enter the code we emailed you. This will add it permanently to your account.
3. Download, install, play, enjoy!