Look At You, Buyer: System Shock 2 Free In GOG Summer Sale
Bargains!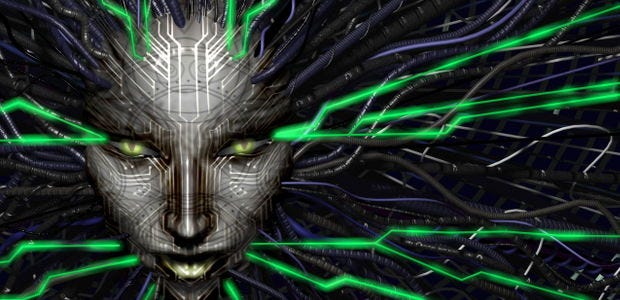 GOG have launched their big summer sale and yes, many fine games are very cheap right now but the important news is: System Shock 2 is free if you grab it within the next two days.
We have said many, many, many times that System Shock 2 is splendid. If you didn't believe us enough to see for yourself: 1) I'm hurt; 2) it's now free, for goodness' sake. Now's an even better time to check it out, mind, seeing as System Shock 3 is coming with Warren Spector onboard and all and the first game is being remade (pending a successful Kickstarter).
To grab SS2 free, download the GOG Galaxy client and use it to visit the storefront. I believe you won't need to use Galaxy to play SS2 if you don't want to, as it'll appear in your library as a regular game, but you do need it to get SS2. As game store clients go, Galaxy seems pleasant and unobtrusive enough anyway.
Oh, and beyond System Shock 2, there's that whole 'GOG Summer Sale' thing.
Every day, GOG will add more games to the summer sale. They've started relatively small but you'll still find bargains on games including Bullfrog's lovelies, ye olde X-COM (and the homage Xenonauts) Darkest Dungeon, Sunless Sea, Saints Row: The Third, The Witcher 3, and plenty more. Hit GOG's site to see 'em all.
The sale will last until Wednesday, June 22 at 1:59pm UK time (5:59am PDT). System Shock 2's only free for another 47 hours, though.
If you've missed the daily fluff of older Steam sales, this has plenty of that. Check in, earn XP, gather badges... it all must mean something. You can get Spelunky free through that guff, which certainly isn't a bad deal.