GOG's Spring Sale has discounts on RPS faves like The Witcher 3 and Paradise Killer
Some eggcellent savings for the next couple of weeks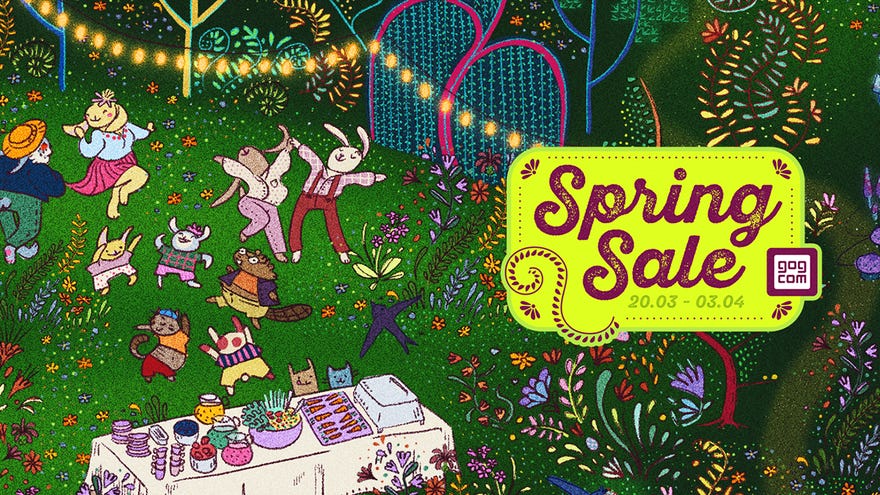 When I look outside my window I just see a bunch of mist and rain. The only way I know spring has in fact sprung is from the other yearly indicators: Easter eggs stacked en masse in the aisles of supermarkets; pictures of bunnies, chicks and daffodils everywhere; and digital storefronts doing seasonal game sales. GOG kicks off their Spring Sale starts today, with literally thousands of games discounted, some up to 90%. It's running until April 3rd, and to give you a place to start we've highlighted some of our favourites on our GOG page.
For starters, my absolute favourite eldritch plant shop sim Strange Horticulture has a tasty 35% discount, a savings that you could use to buy plants in real life. There are some substantially more chilled out plants to be found for 55% cheaper in Mutazione. If you prefer your eldritch mysteries with more sex, drugs and vaporwave (and demons, and immortality) then Paradise Killer is also on sale with 60% off making it under a tenner - honestly, an opportunity you shouldn't pass up. If your tastes run more to metafiction and cards then you can save 30% on Inscryption.
RPG fans need not be disappointed. Forever fave RPG The Witcher 3 is 70% off, a lot of game for a littel money, and our recommeded ridiculous story-generator Streets Of Rogue is discounted down to under a fiver. It's under £4, in fact, which is bananas. There's a bunch of strategy, too, including Old World and Battletech, at 25% and 75% off, respectively, fun action in Death's Door for a tenner, and lovely stories in Coffee Talk for a fiver.
That's only a little taster - an amuse bouche, if you will - and you can find more on our GOG page. From there you can jump into the big, uh, melty chocolate pool (struggling to find a spring-appropriate metaphor and accidentally ended up in Wonka's chocolate factory here) of all of GOG's Spring Sale discounts - until 10pm GMT/6pm EDT on Monday April 3rd.