Greenlight Releases 100 Prisoners, Sanctions Lightened
Green means go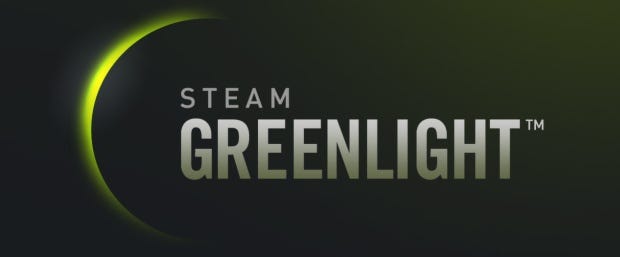 By criminy, Steam's daft Greenlight is letting a lot of games through at the moment. 100 more after the 37 a couple of weeks ago. That makes a total of 262 games cleared for entry in the last three months. That's a lot of games. Does it mean Greenlight is finally working? No, of course not. But it does mean there's a long, long list of games to look through below. It includes Race To Mars, Luminesca, The Mandate and Risk Of Rain.
Being cleared through Greenlight doesn't mean a game is close to release, of course. Just that when it gets there, it'll have a spot on the virtual shop shelf. (You know, like how unread books have to be voted to appear on Amazon... no, wait.)
Were any of these on your watch list?
12TailsOnline
3079 — An Action RPG
99 Spirits
A Mass of Dead
A.N.N.E
After Reset RPG
ALLBenchmark Catzilla
Ballpoint Universe: Infinite
Battle Fortress Tortoise
Beast Boxing Turbo
Cannons Lasers Rockets
Cardinal Quest II
Castaway Paradise
Cloudbuilt
Colonies Online
Cornerstone, The Song Of Tyrim
Dead Sky
Deadly 30
Deckadance
Doctor Who: The Adventure Games
Drifter
Enamel
Epic Battle Fantasy 4
Eryi's Action
Eschalon: Book III
Estranged: Act I
Everworld Island
Fading Hearts
Festival of Magic
Finding Teddy
Fistful of Frags
Flowstorm
Frozen Hearth
GoD Factory: Wingmen
Gun Disassembly 2
Half-Life: Before
Hero of the Kingdom
Holy Avatar vs. Maidens of the Dead
I Shall Remain
iRacing.com
Jacob Jones and the Bigfoot Mystery
Jets'n'Guns
Last Knight
Loren The Amazon Princess
Lost Saga
Luminesca
Magicite
Mines of Mars
Molten Sky
Montas
Nightrealm Tales
Nimble Quest
OddPlanet
Oozi: Earth Adventure
Orc Attack: Flatulent Rebellion
Our Darker Purpose
Paper Monsters
Parallax
Particulars
Pirate Galaxy
Private Infiltrator
Probability 0
Pulse
Purge
Race To Mars
The Real Texas
Ring Runner: Flight of the Sages
Risk of Rain
Rogue's Tale
Rollers of the Realm
Savant – Ascent
Science Girls
Shaun the Sheep – Home Sheep Home 2
Shufflepuck Cantina Deluxe
Spintires
StageLight
Sub Rosa
Suguri Collection (Suguri + Acceleration of Suguri X-Edition HD)
Survivor Squad
Tales Of Maj'Eyal
The Escapists
The Mandate
The Red Solstice
The Somme
The Yawhg
Tower of Guns
Trash TV
Two Brothers
Vanguard Princess
Void Destroyer
Will To Survive
Wings Of Vi
Worlds of Magic
WorldShift
XING: The Land Beyond
Xsyon: Prelude
You Are Not The Hero
Zigfrak
Zombeer
Platformines