FPS Wizard Wars: Grimoire's Open Alpha
Multiplayer wizard FPS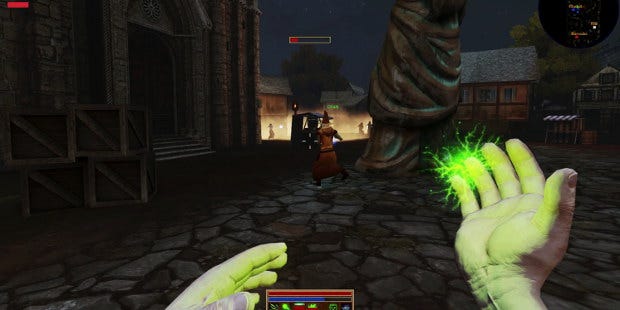 They're everywhere nowadays, wizards. You've surely seen them hanging around with their wizard mates at bus stops, clad in garish clothes with scruffy beards, and listening to the tinny singing of enchanted stones. The enduring Harry Potter craze has reached video games too, with wizard 'em ups like Dota 2 and League of Legends drawing squillions of wizard wannabes. Grimoire: Manastorm is joining in too.
It's a first/third-person multiplayer wizard-o-shooter, and developers Omniconnection are handing out free open alpha test keys for us muggles as fast as they can summon them.
In some dangerous alchemy, Grimoire is attempting to combine arena shooter with Dote 'em up. All yer wizards run around murdering each other with magic spells, lots of which resemble '90s FPS staples like lightning guns, rocket launchers, plasma guns and all that (which, now that I think about it, were probably half-inspired by fantasy RPG spells in the first place). Wizards can pick from a variety of elemental classes, and level up through fighting to become better wizards.
Right now it only has three modes, with control point domination, co-op wave survival, and one-life teamplay. Another four are planned for the eventual full release.
If you want in, grab a key from here. Here, this trailer's four months old now, so I imagine it's come on since then, but is still the newest so: