Growbot's Artwork Is Utterly Charming
The inevitable growbot uprising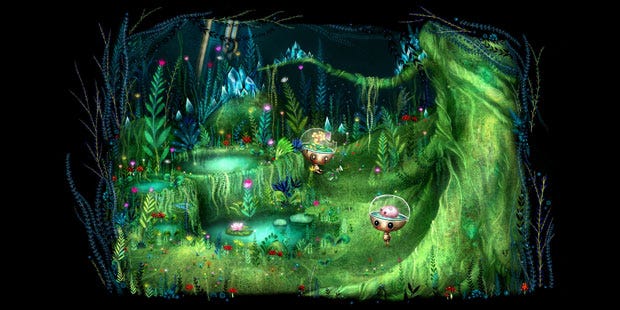 Oh my! Yesterday Twitter brought Growbot [official site] to my attention and it is SO PRETTY! It's a 2D point and click adventure but the art is that strange, beautiful children's book illustration style which I guess you might call whimsical (although that word feels like it often undermines the work involved in creating it so I'm reluctant to just bandy it about).
In terms of where I place it in my imaginary taxonomy of gaming art, I think it's sort of intersecting with Machinarium, but then also wandering off to play with some of the Russian illustrators I used to follow on Livejournal.
"Growbot is a 2D point-and-click adventure game in which you play as Nara, a student growbot on her first day of captaincy training on board a space station. Before you can learn more about your new home's ecosystem of alien flowers and strange creatures, an attack by an unknown force infests the station with large and quickly growing crystals. Communication is cut off, and so you venture out of your room in search of your captain. Along the way you must make new friends, fix the station's strange machinery, and discover the origins of the crystalline force spreading throughout the station."
I'm going through a phase of enjoying interactive children's stories so it's not surprising I ended up on the game's Greenlight page after an image popped up in my feed.
Growbot isn't due to launch until 2018, but will be at IndieCade in October.
[Disclosure: After cooing about the game with John for a while in the RPS treehouse we realised that it was by Lisa Evans. It bears mentioning because Lisa is Graham's partner and so TRANSPARENCY IN REPORTING.]