Gay Tony returns in GTA Online's After Hours update on July 24th
He's back, baby!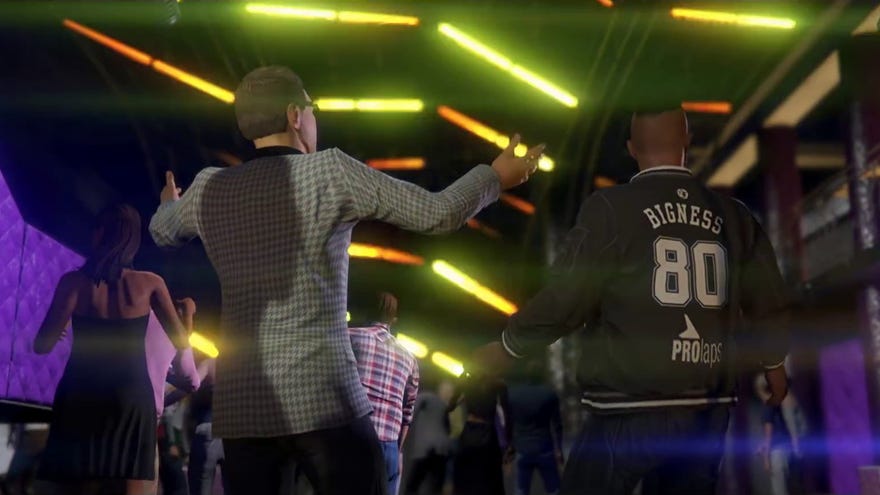 Grand Theft Auto IV's fallen nightclub king Anthony "Gay Tony" Prince will return to help players run nightclubs in GTA Online, reveals a new trailer for the upcoming 'After Hours' free content update. That'll launch on July 24th, Rockstar announced today. Tony is coming to the west coast to help us lowly criminals start clubs, recruit talent, and get into explosive japes which honestly seem quite secondary to the business of playing songs for people to dance to. Today's trailer makes club missions look fairly story-focused, more like the ace Doomsday Heist than other businesses, and I hope that's true. Watch it below.
Classic Lazlow at the end there. Prick.
The After Hours expansion will let players run nightclubs as business opportunities, seemingly using them as a front for many of GTA Online's other criminal businesses. My other business interests are mostly stolen art and antiques so, er, I hope clubgoers fancy snorting oil paintings in the lavs. I wouldn't expect the nightclub to be a proper shared social space, as all other businesses are small instances only for your crimechums, but I'm up for partying down with NPCs.
Nightclubs will feature sets from several real-world DJs: Solomun, Tale Of Us, Dixon, and The Black Madonna. Going by how The Black Madonna is punching out a cop in that there trailer, we might need to get our hands dirty to have them join us. I welcome more daft story missions slipping into GTA Online.
Tony first appeared in GTA4 then we got to play as his put-upon business partner and bodyguard in the expansion The Ballad Of Gay Tony. Our John said in his Ballad Of Gay Tony review that it "combines the honesty of GTA IV with the playground silliness of Vice City and San Andreas, along with some of the finest writing the series has seen." Good stuff. It seems Tony's life is in better shape now too, which is nice.
Now I need to buy a new outfit for clubbing. And buy a new vehicle to take us all to the club. Oh, and probably buy a club too. Time to grind more imaginary dollars, if the near-endless loading times allow me.
Disclosure: Like half the population of Edinburgh, I'm pals with some folks who work at Rockstar. I don't know what they do there because our relationships are largely built around swimming in cold water.