GTA Online tapping top DJs for player-run nightclubs
But can I run the Adam Ant-themed club of my dreams?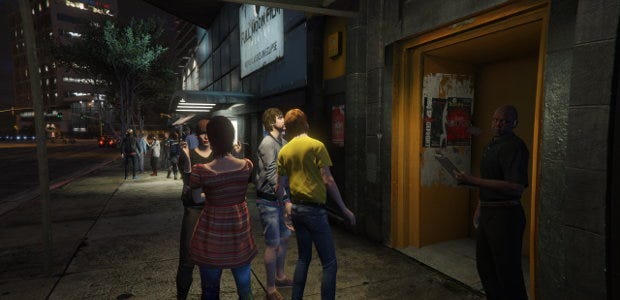 Hip and happening disc jockeys including The Black Madonna will ride the wheels of steel in GTA Online when the next major update lets players run their own nightclubs. Crimefolk will get to buy, design, and run clubs, turning them into moneymakers (and maybe handy fronts laundering money from less honest ventures). The Black Madonna, Solomun, Tale Of Us, and Dixon will all appear in clubs playing sets, which is pretty nifty. But god, I'd love a cheesy DJ spinning Agadoo, The Locomotion, Y.M.C.A., Oops Up Side Your Head, Cotton Eye Joe, Time Warp... all the church disco classics.
I wouldn't imagine nightclubs to be big social hubs, mind, given that all other GTA Online businesses are invitation-only instances. Here's how Rockstar explain it:
"Nightclubs are the perfect cover for any other operation you might have going, so get in on the ground level as a business partner to open up a brand new establishment, and help the DJ's make their shows the best ever. Run your nightclub business from setup, design, staffing and promotion; the more popular the club, the faster your secure wall safe will fill up. Management is honest work, a tidy way to keep income from your more seedy ventures with Disruption Logistics, The Open Road, SecuroServ and Free Trade Shipping Co. looking clean as fresh laundry."
That sounds like it'll give us more control over clubs than most business buildings, but I probably wouldn't expect serious club management and deep customisation. Businesses in GTA Online mostly exist as engines powering crimes, though I would be delighted if this does turn out to be some sort of SimClub.
I'd also be delighted if Rockstar expand this beyond dance clubs and DJ sets, getting into other genres and venues; my biker club would be a cracking gig spot to cram in a few dozen rowdy punks. And if I could yell at DJs to play my favourite songs... Ah, but if wishes were horses, The Monkey's Paw would be a different and possibly scarier story.
GTA Online is due to add nightclubs some time in July. Ahead of that, players can join the 'Guest List' by signing into GTA Online before July 2nd. That'll then bring opportunities for bonus free cash, new clothes, discounts on upcoming vehicles, and other odds and ends.
For now, hey, here's a neat tune from The Black Madonna last year:
Disclosure: Some pals of mine work at Rockstar on... stuff? Honestly not sure.