Half-Life 2: Episode Two's community-made VR mod arrives on Steam today
Totally free and very not-sickening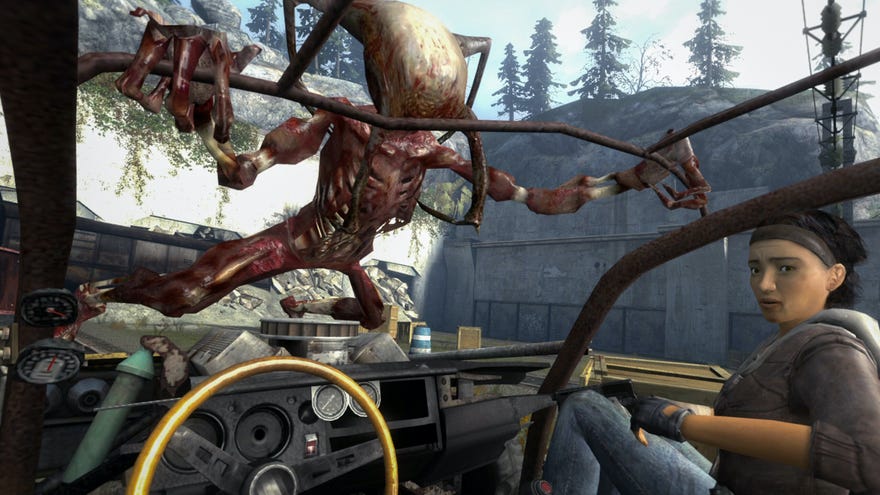 The Source VR Mod Team have been faithfully modding the Half-Life games into virtual reality - an excellent way to relive Valve's classic shooters. The team modded Half-Life 2 last year and followed it up with a mod for Half-Life 2: Episode One a couple of weeks ago. They're now back with Half-Life 2: VR Mod - Episode Two, coming to Steam later today.
Gordon Freeman's whole adventure is now playable in VR, and the mods are completely free. You'll still need to own a copy of the original Half-Life 2: Episode Two, and you'll also need to have Episode One's VR mod installed on the same drive. But after that, you can jump straight to Steam, download the VR version, and play Episode 2 in virtual reality.
You'll also, of course, need a SteamVR-compatible headset, which currently includes the Valve Index, HTC's Vive headsets, the Oculus Rift / Meta Quest 2, Windows Mixed Reality headsets, and a few others. Our hardware boss James has a handy breakdown of the best VR headsets if you're in need of some advice, though.
For those of us with weak stomachs, the mod team have included a teleport movement option, allowing you to zip around the game, rather than shakily running away from all those headcrabs. The Steam page details other comfort options like "quick and easy weapon switching via a radial menu, ammo storage over your shoulder, function iron-sights, two-handed weapons, and manual reloading." The team also notes that "optional laser sight and an arcade style quick reload are available if desired."
To celebrate the release of Episode Two's VR mod, the team have also gone back and updated their previous mods as well, bringing bugfixes and new features. If the teleporting movement is still too nauseating, you can now enable 2D cinema mode for vehicular sections. This will switch you out of a virtual reality camera and instead project the vehicle rides onto a virtual flat screen.
Steam reviews have raved about the past two mods, with Half-Life 2: VR Mod comfortably sitting at an overwhelmingly positive user rating. Fans aren't alone in their enjoyment, though. In our VR-centric monthly column Reality Bytes, Rick Lane called the mods a "fantastic adaptation of a classic." He continued to say "Half-Life simply works well in virtual reality, everything from the world design to the combat to the highly tactile nature of its systems."
In a particularly VR-loving mood? Check out our picks for the best VR games available now. Or if you're in the usual Half-Life-loving mood, Jeremy Peel recently interviewed Half-Life writer Marc Laidlaw about penning the shooters, publishing the plot of Episode 3, and other fun stuff.