Misc. Tricks, Treats: Halloween Goings-on In Games
A few of my favourite frights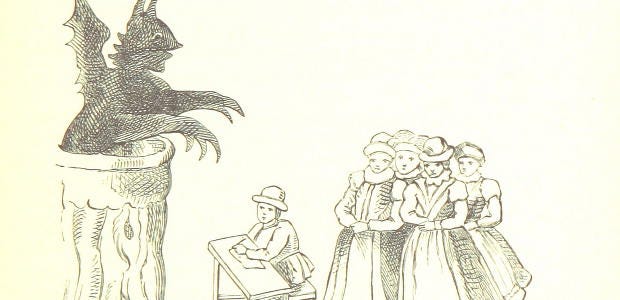 How's your Goth Christmas so far, everyone? Me, I'm blasting The Sisters of Mercy and chucking back red wine - and writing this, I suppose - before wandering through trees in the fog at the Botanic Garden's lights. If you want a spooky weekend indoors, though, here are a few of the Halloween happenings which caught my kohl-smeared eye. I've no intention of covering everything, but this stuff looks fun:
Ark: Survival Evolved's Halloween event? One word: Skelesaurs. A few more words: a fire-breathing DodoRex, witch hats, bats, and goodness knows what else.
Dota 2 isn't getting Diretide this year, as Valve have instead made a new custom game, Haunted Colosseum. It's a 5v5 point capture affair with giant spooky monsters, and traps including a murderous pendulum. Spooky!
It's a wee tiny thing, but I do like that Euro Truck Simulator 2 has revisted its past Halloween DLC to add a pumpkin-headed monster and a flappy rubber bat for folks who own its new cabin accessory DLC. This may only be relevant to five of you, but I can't resist that goofy bat.
Grand Theft Auto V's Halloween Surprise brings spooky stuff to GTA Online - sadly not singleplayer. Still, you can pick up bitchin' cars like the Lurcher Hearse and the Franken Stange hot rod, along with spooky masks and facepaints, all of which you can keep forever. Plus, a new mode, Slasher Adversary:
"Enjoy thrills and suspense with the lights out in this tense new Adversary Mode for up to 8 players. Run, hide, and fight to survive in the darkness as the player designated as the Slasher stalks their prey with a Shotgun. Use your new Flashlight to navigate if you dare, but be careful not to reveal your position or you'll quickly become prey. Survive for 3 minutes and you'll get the chance to return the favor with a Shotgun of your own."
Co-op survival FPS series Killing Floor is always a fun spot of horror, and both games are on sale this weekend. The first is 75% off, down to £3.74 (its DLC is on sale too), and the still-in-Early-Access sequel is £13.39. The first one has loads of special Halloween event maps from previous years, and while devs Tripwire haven't added anything specifically Halloween-y to KF2 this year, they have added a new map set round a spooky farmhouse.
Rocket League is offering spooky cosmetic items as post-match drops, which will stick with you forever if you get them now. If not, you'll need to wait another year.
Team Fortress 2's Halloween brings back all previous Halloween events and has new maps and hats and all that too.
The Binding of Isaac: Afterbirth is out and amazing and has demons and dead children and Mega-Satan and all that spooky stuff oh my gosh I could be playing that instead of writing this.
Warframe has come over all Day of the Dead with special capes and weapon and landing craft skins.
As for MMORPGs... they run all sorts of Halloween events, but the last I played myself was Guild War's Mad King events and gosh, that was an awful long time ago. I have no idea what's good or interesting any more. Which spooky MMO events would you recommend, readers dear?
Do share any of your own favourite Halloween things afoot too, gang.