Hammerwatch 2 takes the hack-n-slashing series open world this summer
Should I watch the first hammer?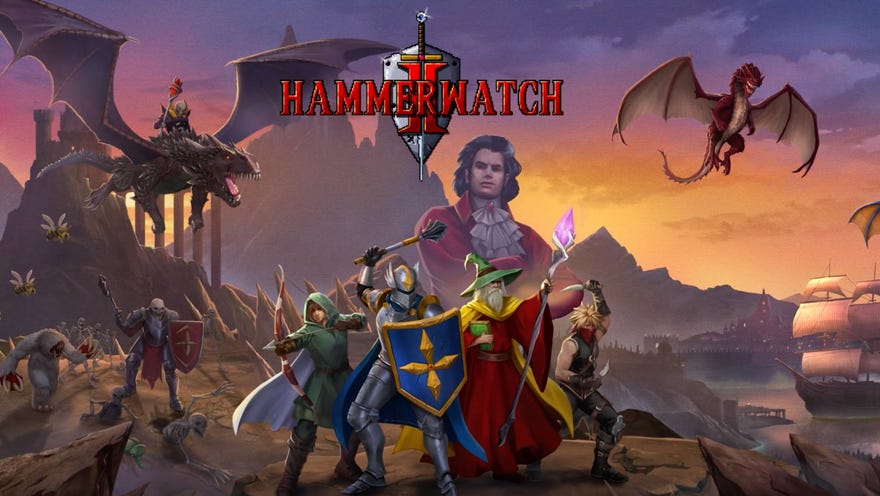 The world of hack-and-slashing Hammerwatch returns this summer with a sequel, developers Crackshell have announced. Just like the first game released ten years ago, Hammerwatch 2 is a top-down fantasy ARPG where you'll be building your own hero, choosing between a series of classes, and battling hordes either alone or in a co-op group of four.
The first game was confined to the Castle Of Hammerwatch and its dungeons, but the sequel's open world takes you across the aptly named Hammer Island. This time an evil army has overthrown the Kingdom, forcing you and the King's other supporters to flee to the sewer system, use the dingy system to move around the world, and rally a resistance covertly. Sounds like a more scrappy-rebellion type of tale.
That new open world seems pretty nifty, and as you can see from the trailer, the pixel art on display is beautiful too. Hammer Island will also have a full day/night cycle and weather systems, meaning you might get caught in the rain while accepting a few side-quests or crafting better items.
Extensive modding support returns and will be available at launch for PC players, allowing you to edit levels and create your own stories. A brand new map creator will join the fun as well, and I'm sure that'll be useful for those four-player parties who are looking for something specific.
The first Hammerwatch launched in 2013 and was a big success for the studio, selling over a million copies. Crackshell followed it up with a top-down Serious Sam spin-off, before spinning off their own IP with Heroes Of Hammerwatch, a procedurally generated roguelike set in their fantasy universe.
Hammerwatch 2 will launch on consoles and PC via Steam sometime this summer. A more expensive The Chronicles Edition will also be available and come packaged with cosmetic items, character voice packs, and a remastered version of the very first Hammerwatch.