Have You Played... Hotline Miami?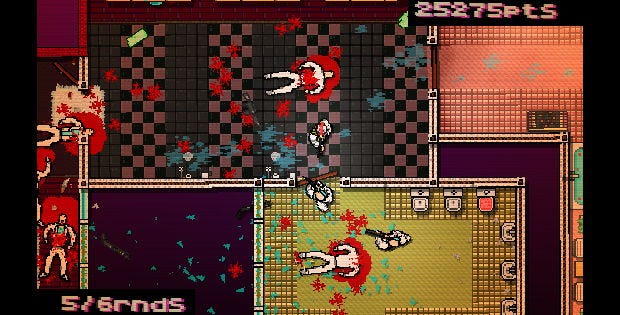 It seems so familiar now, with a sequel and several imitators behind it, but at the time Hotline Miami was so exciting. What a mix of things! A superb soundtrack, lightning-speed precise controls, a built-in rythym powering the action, a palpable sense of disorientation, breathlessly nasty violence and a throughline of rare subversion.

A thing about games journalism: no-one really wants to write a level guide (let alone a full-game guide). They're long, fiddly work, and they suck the fun out of a fun thing. Hotline Miami is the only game for which I have voluntarily written a level guide. Because it was a trophy, a victory lap for something which had challenged me and which made me burst with pride when I did it.
Hotline Miami is flow and precision and adrenaline set to an evil disco beat. Hotline Miami 2, crueller and far more self-important, made me fall a little out of love with it, but maybe now it's time once again.
Or maybe we just need a new game to pull a Hotline Miami, something else that cleverly subverts while still being rapturously tight in its controls and its aesthetic.