Headline With a ? - The Last Days Of Game?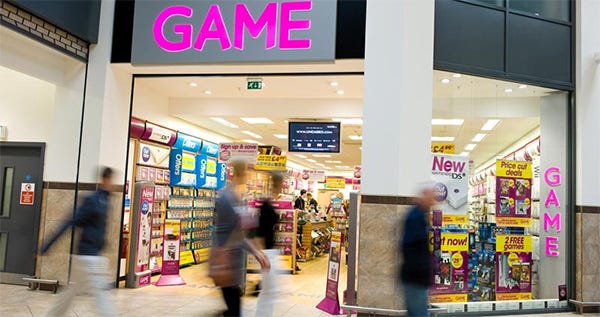 The writing appears to be on the wall for increasingly troubled UK videogame retailer GAME and its subsidiary Gamestation. Its share value has fallen dramatically to less than 1 penny, and allegedly it put itself up for sale over the weekend.

The other story circling is that it needs to pay rent for its various premises in two weeks, and right now that's looking unlikely. Claims MCV, if that happens, administration is a distinct possibility. Financial advisory group Rothschild has reportedly been brought in to find a buyer for the debt-ridden chain.
Doesn't sound as though Mass Effect 3 will be the only big game it doesn't stock either, with an official statement today claiming that GAME "remains in discussions with its suppliers and lenders in relation to terms of trade that allow the business to operate within the facility provided by its banking syndicate... While these discussions are on-going, it has not been possible to source new products from a number of suppliers."
The company's also seeking "alternative sources of funding and reviewing the position of all of its assets in the UK and international territories. It is uncertain whether any of the solutions currently being explored by the Board will be successful or will result in any value being attributed to the shares of the Company."
Eurogamer has the full story and statement. Obviously the potential loss of GAME won't have a direct impact on PC games in the UK, as the chain long ago elected to essentially abandon PC - one of many what could be called mistakes over the last few years - so in terms of RPS' Britisher readership, there may be no effects whatsoever. But it is a very big deal for games publishers, as GAME has been by far the biggest source of their UK revenue. The loss of it could affect how much stock they bring over here, and knock-on stuff like how much they advertise, which is a source of worry for games websites and magazines.
Without GAME, supermarkets will perhaps become the de facto leading games retailers - and thus far they have seem uninterested in stocking anything except the most surefire of hits. Sure, GAME was an increasingly disappointing source of lesser-known titles already, but Tescos, Asdas et al are unlikely to stock anything much smaller than a Call of Duty or Mass Effect. Again, not really an issue for PC gaming in 2012, but I worry about the knock-on effects. The console industry is taking its sweet time to move fully online, and whether it warrants it or not the console industry does tend to dictate what the mainstream games industry as a whole does - specifically, where it spends its money.
The question is whether other retailers such as HMV - which is in wobbly shape itself - can step into the breach, whether GAME's customer base switches its attention to online retailers, or whether someone else buys up GAME. There is reportedly interest from US retail king/despot Gamestop, but so far they mostly seem interested in the Spanish and Portugese offshoot of GAME.
One way or another, GAME's fate looks to be decided this week. It could be said to have brought it upon itself, with its unpleasantly homogeneous stores and its deep reliance on trade-ins and pre-orders, and certainly there are many who will not mourn its potential loss. It's just that we don't know what happens then. It could be disastrous for the UK games industry, or it could be an important tipping point in the inevitable but slow move to online sales and distribution.
Oh, and if you're in need of any console-toy equipment or games, GAME/Gamestation are having something of a firesale this week, so you might be able to pick up a bargain if you pop your head into one of their branches. Wish they sold graphics cards!