Hear Ye: Rezzed And London Drinks This Weekend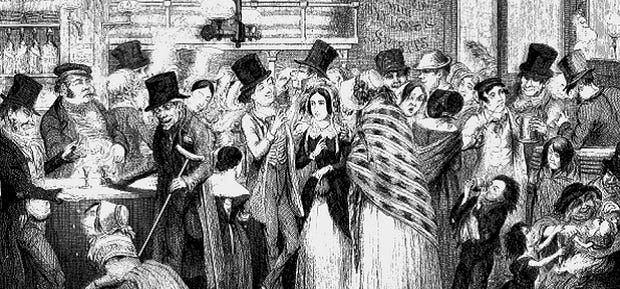 The infinite flanks of RPS are bringing a unique brand of revelry to Britain's major cities this weekend. One day, RPS Social Clubs shall sprout up in every town, village and hamlet, but for now we're limiting our good times to Birmingham and London. The former is host to Rezzed, where Graham and I will be seeking the popular vote by shaking hands with babies and kissing local dignitaries on the jowl. If you are visiting on the Saturday, or happen to be in the vicinity of Birmingham, do join us for drinks. As for London, it's the monthly meet-up at The Blue Posts. More details on both below.
At last year's Rezzed, everybody gathered in the Wetherspoons at the NEC after-hours. This is clearly unacceptable. With that in mind, we'll be leading a party into the city centre. Meet in the on-site Wetherspoons between 6-7 on Saturday and we'll gather together and head to New Street. From there, we'll take a short walk to Cherry Reds, which is on a strip with assorted other bars. Merriment shall be made.
Oh, and if you're in Birmingham on Friday, I'll be arriving in Birmingham around 6.30 so let me know which pub you're in, eh?
If you can't make it to Rezzed but do happen to be in London, The Blue Posts is the place to be. People generally arrive around 7 but if you pop into the appropriate thread you may be able to find other early birds should you so desire.
Once again, wherever you are in the world, do email me if you fancy your own get-together featuring in next month's social listing. Our infinite flanks are prepared for global domination.