Diablo Too'd: Heroes Of The Storm Gets A New Champ
Biff!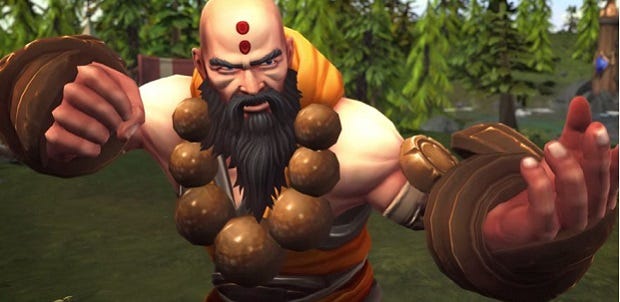 Blizzard continue to add to their bubbling amalgam of SuperBrands by introducing the Monk character from Diablo III - a new playable dude for the company's MOBA offering Heroes of the Storm [official site] in a big patch this week.
Sexy, topless MuscleMonk Kharazim was detailed earlier on in the year - He's the first support-class character to be added to HotS from the Diablo series. He's a healer with offensive fighting potential and some nice mana restoration abilities.
This is the same character announced at the start of the month, having been entered into the game's Public Test Realm to get its kinks kicked out around the start of Gamescom. As we mentioned at the time, Blizzard had made a strange decision of gettings its PTR testers to actually buy new paid-for items before being able to test them.
If you own Diablo 3 and you log into HotS in the next three weeks you get the character of Diablo for free - that's the character Diablo as disctinct from Kharazim, who is a character from the game Dablo. Likewise, if you reach level 70 with a Season 4 character in the upcoming season of Diablo III, then you'll get the new Malthael's Phantom mount, which is a handsome but sad looking horse wearing armour.
Note: Updated the post to correct a mistake as to which character you get for free for logging in as a Diablo 3 owner.