Everquest co-creator cancels new RPG Hero's Song
Refunds now available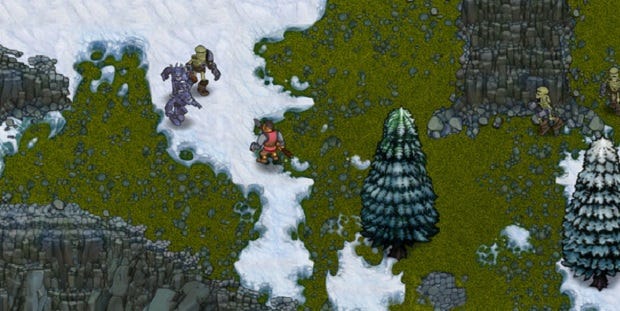 Everquest co-creator John Smedley's new studio, Pixelmage Games, has closed, taking procedurally generated multiplayer RPG Hero's Song [official site] with it. The game, which received almost $100,000 of crowdfunding via indiegogo last year, had been showing off the skeleton of its simulated worlds - think Dwarf Fortress Adventure mode lite - in Early Access for a couple of months, but on Boxing Day, a statement from the team explained that development had ended. Sales fell short of what was needed and all purchasers will now be able to claim a refund.
Details on refunds, whether you purchased through Steam or Indiegogo, are included in the statement, the central part of which is below:
It's with a heavy heart that I have to report that Pixelmage Games is going to be shutting down and we have ceased development on Hero's Song. For the last year, our team has worked tirelessly to make the game we've dreamed about making, and with your support, and the support of our investors, we were able to get the game into Early Access. Unfortunately sales fell short of what we needed to continue development. We knew going in that most startups don't make it, and as an indie game studio we hoped we would be the exception to that rule, but as it turned out we weren't.
I tried Hero's Song just before the winter break, spurred on by a write-up on Eurogamer that made it sound like an interesting playground. I'd be lying if I didn't admit that the inclusion of jewelry slots on genitalia wasn't part of the appeal. If your willy were to get chopped off during a fight, you might lose the diamond-studded cockring of +6 stamina, or something like that. It's not that I think every game should pay more attention to the penis, it's more that a game that dealt with the possibility of cock-loss sounded like it'd be simulating details that most games didn't. Like how Dwarf Fortress' biological functions aren't essential to my enjoyment in and of themselves, but speak to the intricacy of the simulation in a way that makes me very happy indeed.
The build of Hero's Song that I played wasn't particularly gripping though. It felt too early - the sketch of a game with big ideas, few of which were implemented in any meaningful way. I'd love to have seen what came next, as was the case with Smedley's ideas for Everquest Next which sounded excellent on paper, but the Hero's Song has fallen silent for now.
Hopefully, Smedley will be able to realise his simulated worlds one day. For now, best wishes to the staff of Pixelmage.