High Street Blues: GAME Enters Administration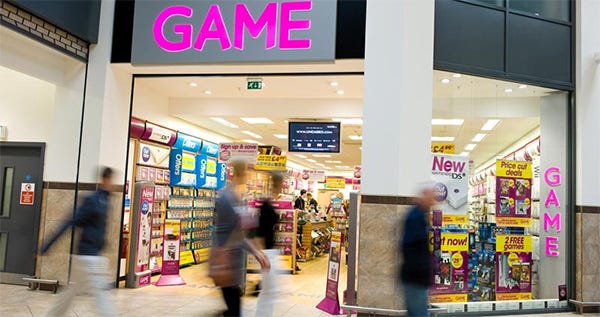 It appears to be the end of days for troubled UK high street games retailer GAME and its sadly homogenised subsidiary Gamestation. While the chain has long been guilty of multiple heinous disservices to gaming (the aforementioned homogenisation, unwillingness to promote lesser-known titles, far too many stores far too close to each other, excessive reliance on pre-orders and trade-ins, refusal to stock almost any PC games and unproven allegations that it was getting publishers to delay Steam releases in the UK), do remember that is not the fault of its general workforce. Plus despite its sins, it has been a monetary backbone to the UK games industry. The gaming landscape without it is an uncertain one.

Its likely successors, the supermarkets, are even more aloof and risk-averse than it is/was, so the net result is very unlikely to be an explosion in the availability of interesting games. Of course, we have etailers like Amazon and Play, and on PC there's Steam, Gamersgate, Origin and co, but it's tended to be promotional presence and potential on the high street that has guided publishers' budgets - both in terms of what and where their marketing and distrubtion spend is and even what they greenlight. Hopefully, a brighter, more digital future awaits, but I suspect we're in for a bumpy few months or even years as the industry adapts.
That said, GAME isn't entirely dead just yet, but it has entered administration - which means it's suspended itself from trading and has placed all its assets in the hands of a third party who are tasked with finding a buyer, otherwise it'll shut up shop entirely.
Having monitored this drama on Twitter over recent weeks, it's clear that the likely demise of GAME is seen as a cause for celebration by many, and given the many mistakes made by the chain's management that is understandable, but please don't forget how awful this is for the 5000+ employees across GAME's 609 UK and Irish stores. Barring a miracle, they're going to lose their jobs, and with UK retail generally in the doldrums right now finding new work won't be easy. Best of luck to them, and our sympathies.
There had been hopes of late that a buyer would emerge for the struggling business, but either it was deemed too damned or there's been a predatory urge to wait until things were at rock bottom and thus prices cheaper. Someone may well step up to the bat now GAME is in administration. Said Mike Jervis of administrators PwC:
"The group has faced serious cashflow and profit issues over the recent past. It also has suffered from high fixed costs, an ambitious international roll-out and fluctuating working capital requirements. Despite these challenges, we believe that there is room for a specialist game retailer in the territories in which it operates, including its biggest one, the UK. As a result we are hopeful that a going concern sale of the business is achievable."
If that does happen, we just have to hope it'll mean continuing work for GAME's high street employees. GAME's CEO Ian Shepherd has already stepped down, incidentally.