HOMMage: Might & Magic Heroes VII Announced
From Might & Magic X folks Limbic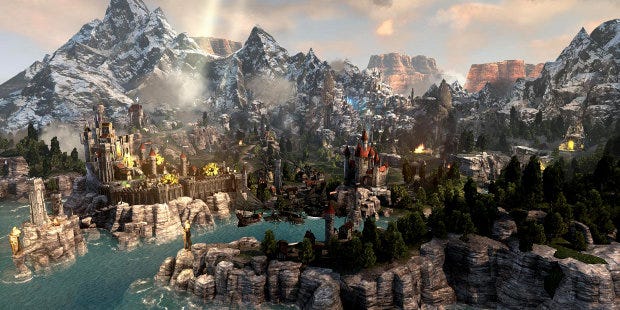 What would you want in a new Might & Magic Heroes game? (Or a new Heroes of Might & Magic, if you prefer the old name.) When a series is 19 years old, would you rather an exciting new direction, a return to the early days, more of the same, or some sort of mish-mash of two decades' best bits? Recent games in the fantasy turn-based strategy series have been a bit so-so, but Might & Magic Heroes VII sounds promising. Announced today by Ubisoft, it's coming from Limbic Entertainment, the folks who did a decent job of channelling The Good Old Days in Might & Magic X: Legacy.
Limbic are looking at a mix of old and new, as CEO Stephan Winter explains:
Basically, our goal is to take the best out of the previous Heroes titles and build Heroes VII from there. Of course we're also bringing in new features or new ideas without compromising the spirit of Heroes, such as more interactions on the Adventure Map allowing more strategies. For now we won't delve too much into the details but we have brought in hundreds of small improvements which will help to perfect the formula. All in all we believe that we have the perfect mix of proven features, adjusted ones and new ones.
Story-wise, it's about some fantasy king or something fighting some fantasy war or whatever who needs to unite traditional HOMM factions. Four of those are settled--Haven, Academy, Stronghold, and Necropolis--but the last two are up to community votes. Right now, you can have a say in Sylvan vs. Fortress. Limbic also plan to give players tools to make stuff, though quite what they'll let people bosh into the Unreal Engine 3-powered game is unclear.
On the multiplayer side, Skirmish and Duel modes are already in, and Hot Seat support is confirmed. More on that stuff later, they say. Now that I think about it, most of my time with the series was during a friendship basically built around playing Hot Seat HOMM 2. I'm not sure I even remember what the single-player's like.
The game's due in 2015. We're short on screenshots so have a cinematic trailer: