Housemarque's Stormdivers is a flashy battle royale
Ooh those particles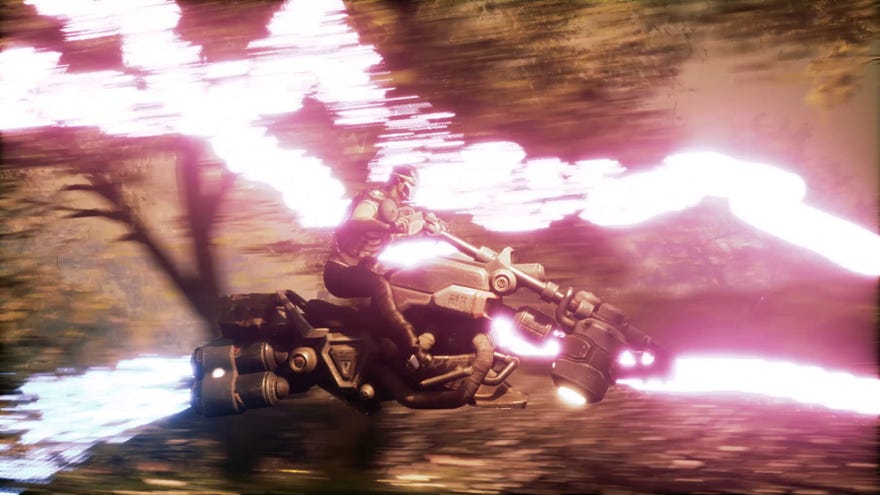 Now that Willennials have killed arcade games with our cold, dead hands, Nex Machina developers Housemarque have confirmed that their first steps outside their home genre in 25-odd years are indeed into the valley of battle royale. After cryptically announcing Stormdivers in April, Housemarque have now opened up and started shouting about it. Stormdivers is a third-person multiplayer battle royale 'em up, right, but also has arcade fanciness including invisibility, jetpacks, dash moves, a honking great tornado sucking people up into the sky, and flashy special effects. Wouldn't be a Housemarque game without particles sparking all over, would it?
Which might look like a fairly traditional battle royale game in contrast to some upcoming games which weave select strands into new garments, but I am curious to see what Housemarque do with it. They've made so many cracking arcade shooters that I'm hoping their experience will partially carry over to a new form of shootyzaps.
"We began its development when battle royale was still a niche gameplay mode," Housemarque CEO Ilari Kuittinen said in today's announcement, "yet despite the number of BR games on the market now, Stormdivers will excite players with its fast-paced gameplay, metagame, classes and various events, all packaged with Housemarque's trademark high-quality visual effects. Stormdivers is more than just another battle royale game, and we plan to roll out new content regularly in the future to continuously expand the experience."
They mention that those content plans include cooperative PvE missions as well as typical stuff like new maps and classes.
Stormdivers is slated to launch some time in 2019.