How To Be A Complete Jostle Bastard
Wryan Gosling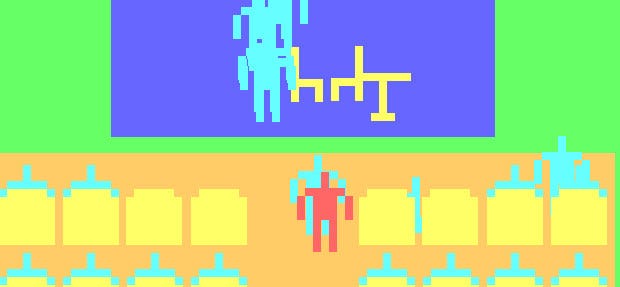 That neon dancefloor of murder had it coming, much as I loved it. There are many ways one could take a knife to Hotline Miami, that bastion of mainstream-friendly indie cool, but Pippin Barr's superbly-named crowd-bothering game Jostle Bastard plays it wry rather than sneering.
You're a bastard. You jostle people. Your jostling makes them mad, as one might expect. I've been jostled, man. I've been there. I know the horror of it. Now I am become jostler, jostler of worlds. Can I jostle everyone before the cops come for me? Can I jostle efficiently enough to get the top bastard rating? Will I get revenge-jostled if I jostle too hard, too often? Jostle!

Meaningless datestamped pseudo-flashbacks are about as nasty as Jostle Bastard really behaves towards Hotline Miami, but the incoherently abstract scene-switching and gibberish scoring holds more playful barbs. And, of course, there's the violence and player behaviour question. Is the jostle mightier than the sword? What is the dividing line between irritating bastard and offbeat hero? Can pleasure or entertainment be derived from jostling? Should there be consequences for such bad behaviour, and how heavy should they be? These, and many other questions, are ones I've just made up. Just play the thing, right?
The process of creating Jostle Bastard, and the tricky question of satire vs just being a dick about something, has been documented over on Unwinnable, which this free browser thinger was initially created for.
And remember: jostling is optional.