It's the little details that make HP's new Omen Sequencer keyboard and Reactor mouse so great
Devil in the details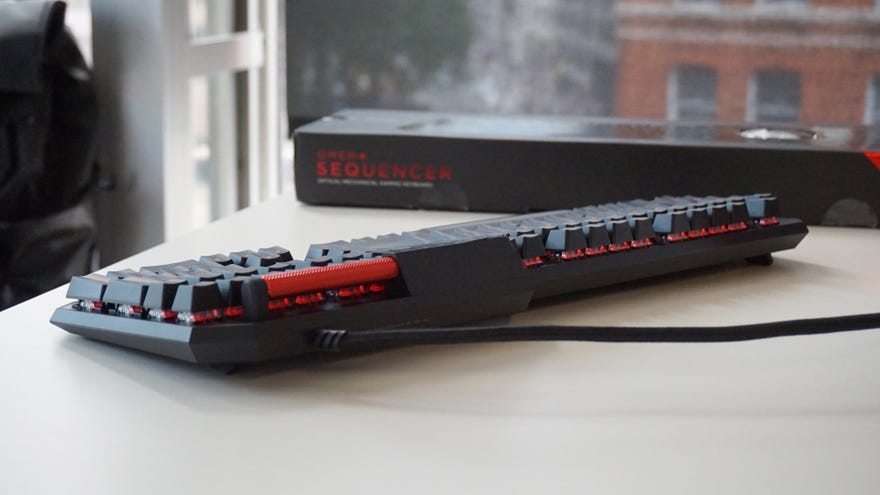 I won't lie. When HP announced a string of new Omen peripherals at this year's Computex show in Taiwan, the thing that really caught my eye was its supposed ear-cooling gaming headset. It even had a cool-sounding name and everything. The HP Omen MINDFRAME. Sadly, that was the one thing missing from the HP Omen demo day I went to last week. I did, however, get to prod their new Sequencer keyboard and Reactor mouse, and let me tell you, the Sequencer (pictured above) may have the nicest volume slider in the history of keyboards. Let's take a look.
A bit like Razer's new Huntsman keyboard I reviewed last week, the Omen Sequencer is an optical-mechanical keyboard. While it still has individual switches like a traditional mechanical keyboard, each key also has its own optical laser, allowing it to effectively reset as soon as you press it down.
Technically, it takes 0.2ms to do this, but that's still super fast compared to even the quickest mechanical keyboards. As a result, HP are hoping the Sequencer could potentially give you an edge as a young, upstart esportser provided your reaction times aren't already shot to pieces like mine.
Indeed, a quick tappity-tap around the Sequencer proves promising, providing a nice level of tactile feedback and overall comfort. The real attraction of this keyboard, however, isn't that over-sized space bar, or its RGB lighting zones, or even its five programmable macro buttons down the side. It's that gorgeous red volume slider in the top right corner.
Red is my favourite colour, so it gets top marks for that right from the start, but just LOOK AT IT. It's grooved, knobbly metal diamonds, the sheer size and length of it. It's just lovely, and it feels cool and premium under your hand, too. Definitely the best volume slider I've ever come across, anyway, which you'd hope it would be, considering it's going to cost £160 / $180 when it launches later this month.
The Omen Reactor mouse looks equally appealing, too. It doesn't have a matching red scroll wheel sadly, but it does have a height-adjustable body that can fit a variety of different hand sizes. Just push in the little slider button on the right hand side and the back lifts up, revealing a nice, thick bronze spring coil beneath. It almost looks a bit like that scarab beetle from Aladdin, only black with a giant RGB Omen logo plastered on its behind.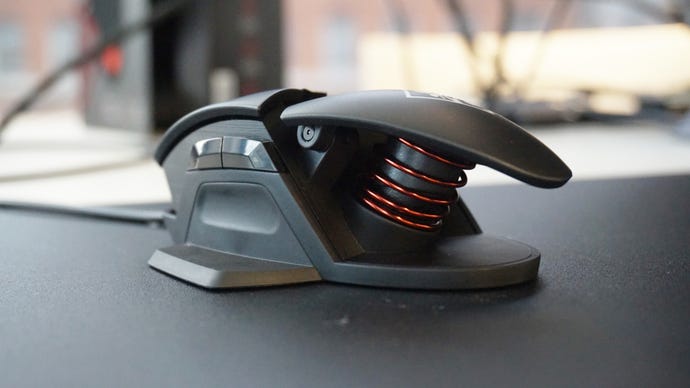 It's definitely a mouse for those that appreciate the little details. The wide, flat plate on the left gives you plenty of room to rest your thumb when it's not clicking its two side buttons, and the brushed hairline finish (which you can just about see in the pictures above if you expand them to full size) looks lovely when it catches the light just right.
There's also a dedicated DPI button and a lovely big scroll wheel between its two pincer-like right and left click buttons - which also have optical-mechanical switches in them just like the Sequencer keyboard.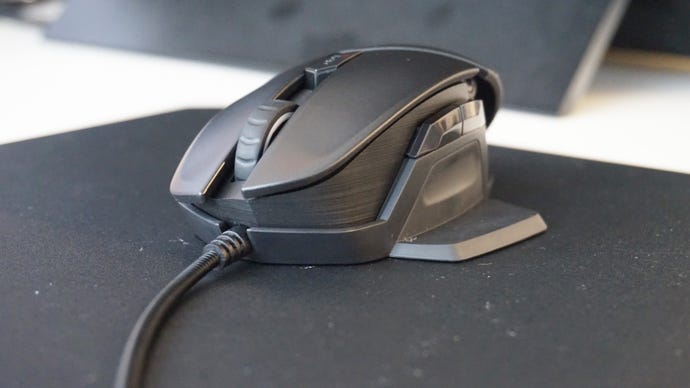 The Reactor's real party trick, however, is its cable. Yes, you heard me. The cable. I couldn't get a good picture of it because I lacked a second pair of hands to show it in action, but needless to say, this isn't your ordinary braided mouse cable. It's made from aluminium, for starters, and stretches and springs back into place like one of those old-fashioned telephone cables.
An ingenious solution if you've ever had a cat mistake your mouse cable for an actual mouse tail before, and goes a long way to justify its somewhat extortionate price of £70 / $80.
Indeed, I'll be intrigued to see how it compares to Acer's upcoming Predator Cestus 510 mouse, which also has height-adjustable plates and additional side grips for a more tailored fit.
I'll hopefully be getting both the Sequencer and the Reactor in for proper testing very soon, so stay tuned for my full verdict in the coming week or so.