Razer Huntsman review: Opto-mechanical goodness
Happy hunting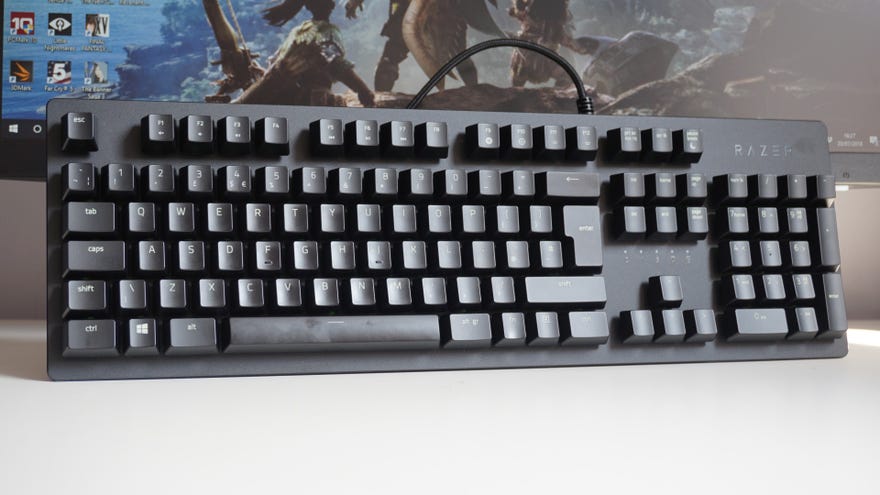 If you like your clacky keyboards, Razer's new Huntsman is going to be right up your street. This thing is LOUD. Much louder, I'd say, than any other keyboard I've tested so far, and I'd probably even go as far as saying it's clickier and clackier than the Cherry MX blue switches found in mechanical keyboards like the Fnatic Streak and HyperX Alloy Elite.
This won't be a problem if you actually prefer the soothing sound of rapid finger-tapping while playing your favourite games, but for those whose PCs happen to live within ten feet of another human being, the Huntsman probably isn't going to be the keyboard for you. Even with my office door closed, my husband and fellow RPS video person Matthew could still just about hear me clacking away from our downstairs living room, so you're either going to need some very understanding partners/family members if you buy this keyboard, or risk watching your relationships explode in a furious rage. In this case, though, I'm fully prepared for any potential divorce proceedings, because boy does the Huntsman feel good to type on.
Rather than traditional mechanical switches, the Huntsman comes with Razer's new opto-mechanical switches. Each one has an optical light sensor inside it, meaning you don't have to push them down as far before they register a key press. In fact, they reset as soon as you've pressed them, meaning they should, in theory, feel even faster than go-to gaming favourites Cherry MX red switches, or even the Cherry MX silver switches found inside the MSI Vigor GK80.
I definitely prefer them to the GK80's MX silvers. Not only does the Huntsman provide a lot more tactile feedback than the GK80, but its short, sharp keystrokes just feel better and more assured when you're typing and flitting between keys at speed. The GK80, on the other hand, just felt a bit floaty and haphazard, making me second-guess myself at every keystroke.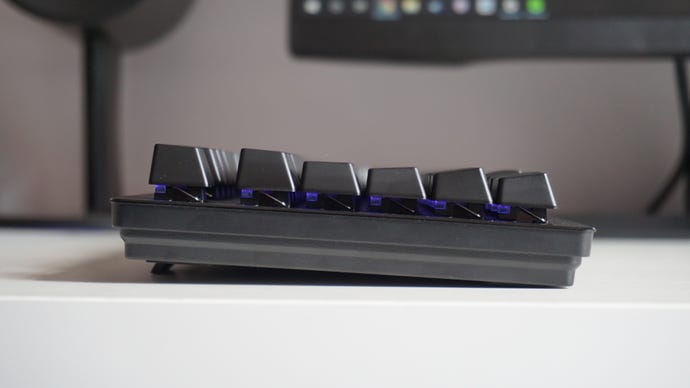 I do wish there was a middle setting between the Huntsman's two back feet positions, though. The shortest one, which is cleverly built into the main foot flap thingame, made the whole thing feel a bit too flat for my liking - especially when the number keys are naturally designed to be much taller than the rest of the letter keys. For instance, I often found my fingers bumping up against the upper edge of the 1234 keys when trying to move them from WASD.
I quickly rectified this problem when I fully extended the Huntsman's feet, as in this position the keyboard's general incline felt a lot more natural. It did, however, really make me wish Razer had thrown a wrist rest into the bargain, as it also made everything feel a bit too steep for my tiny girl hands, like my fingers were constantly arched in a kind of weird Monster Hunter claw of yore. This will probably be less of a problem for those of you with larger, more regular-sized hands, but those with teenier digits may have to spend a bit of time adapting their typing style.
Sadly, the wrist rest is only available on the more upmarket version of the £150 / $150 Huntsman, the Huntsman Elite. This costs a rather eye-watering £199 / $199, but it does come with a couple of fancy extras, such as dedicated media key buttons (these are just assigned to the Fn keys on the regular Huntsman), a multi-function dial you can customise using Razer' Syanpse 3 software, and 360-degree RGB underglow lighting.
Personally, I couldn't give two hoots about the media keys or beefier LEDs. Indeed, I much prefer the overall look of the regular Huntsman to the Elite. It's definitely one of the more tasteful gaming keyboards I've seen in recent months, thanks in part to its premium aluminium top plate. There's a subtle Razer logo in the top right corner, but you only really see it when the light catches it right, and its small footprint makes it feel nice and tidy.
Yes, there's still some RGB backlighting on the keys themselves, but you only notice it on the number and letter cutouts, even on its maximum brightness setting. None of this spilling out from underneath every key nonsense, no sir. There are, of course, multiple RGB profiles you can choose from in Synapse, but on the whole, it's probably the least distracting RGB keyboard I've ever used.
Both Huntsman (or should that be Huntsmen?) also come with a special Game Mode button, which disables the Windows key, Alt-Tab and Alt-F4, and turns on anti-ghosting. There's also a macro recording button, and a dedicated key for switching to one of five profiles you can store in its onboard memory. The only thing it's really missing is USB passthrough for connecting up your mouse.
Still, lack of wrist rest aside, there's plenty to like about the Razer Huntsman. Yes, it's noisy as hell, but it's an absolute dream to type and play games on, even with the slight height issues I had. It's something you get used to pretty quickly, to be honest, and I never once felt like my hands were getting tired when I was using it to write this review.
It certainly looks the part of a £150 / $150 keyboard, and it probably just about edges out the Fnatic Streak / miniStreak as my new favourite in our best gaming keyboard rankings. I'd still opt for the Streak if you're concerned about the Huntsman's noise levels, but otherwise, this is a fine, fine keyboard indeed. It comes recommended.