Human Orbit: Look At What I Did, Dave
AI interfering with its crew's lives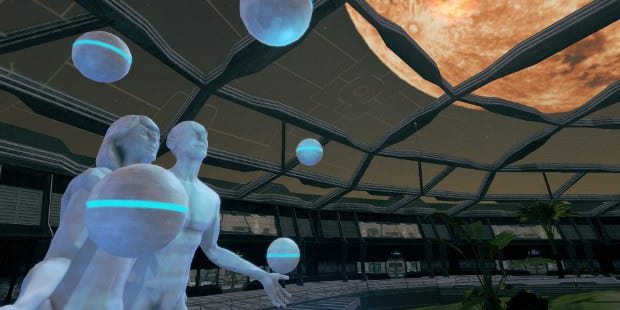 As quotable as 2001: A Space Odyssey's HAL is, he's not a character whose shoes - erm, digital footprint - many games have allowed us to fill. Human Orbit promises to change this, enabling us to finally live out our ambitions of being an all-seeing, all-interfering artificial intelligence aboard a space station filled to the brim with squishy fleshbags.
A new trailer for the game has been released, and although it's classic pre-alpha footage - jerky, unashamed of its typos and not exactly showing off in terms of visual fidelity - it's a tasty little teaser for how the game might ultimately be played.
As the camera whizzes over the heads of station residents, automatic systems read their emotional states: "Isaac is unusually withdrawn", "Joshua and Ha-sun's relationship is going from strength to strength". There's evidence of the station AI's previous interference, too, with the latter relationship status appended with the wry remark "Just as planned".
Exactly how we as players will tinker with the minds and lives of the station's crew remains to be seen, but the concept remains a highly interesting one. The trailer suggests that external factors may also need to be reckoned with: when something dark and colossal emerges from behind a planet, a power loss cuts the video feed, and when we return everything that we previously saw has turned poisonous, with lovers coming to blows and the hapless Isaac fleeing two assailants (who run like they've shat their pants, but I'm sure many animations will be improved long before the game is released).
It's equally possible that the trailer is just showing us both sides of the coin: the disasters we see could well be the result of poor decision-making on the player's part, or outright malevolence. At this point, it's all speculation. Roll on the day when we can speculate on the lives of our human playthings.