Humble Bundle Celebrates Neo Geo's 25th Birthday
Dozens of games!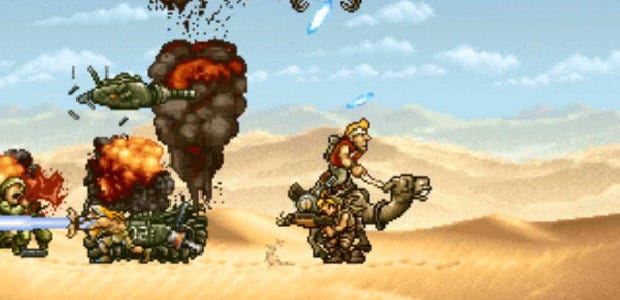 There are two things in life which make me feel old: how long it now takes me to locate my year of birth when filling in online forms (I have to scroll down SO far), and videogame anniversaries. Can you believe that SNK's Neo Geo console is a quarter of a century old? Well it is, and Humble Bundle are marking the occasion with the Humble Neo Geo 25th Anniversary Bundle, which includes classics such as Metal Slug 2 and Fatal Fury Special.
In standard Humble Bundle procedure you can pay what you want for some games, then pay a little more for others. Set in the former category are: Art of Fighting 2, Fatal Fury Special, King of the Monsters, Metal Slug 2, Samurai Shodown 2, Sengoku 3, The King of Fighters 2000, and Baseball Stars 2.
Paying above this lot's average price - $9.50 at the time of writing - will land you The Last Blade, Pulstar, Metal Slug, Metal Slug 3, Shock Troopers, Neo Turf Masters (which indirectly inspired 100ft Robot Golf), The King of Fighters '98 Ultimate Match Final Edition, and Twinkle Star Sprites.
Paying $10 or more will get you Shock Troopers: 2nd Squad, Samurai Shodown 5 Special, Garou Mark of the Wolves, Metal Slug X, and The King of Fighters 2002 Unlimited Match.
Not only does this bundle give 16 of the games their official PC debut, a whole load of them are playable in-browser, as demonstrated by a short demo on the bundle's page.
Gosh, nostalgia overdose. While many of these games have been resigned to the history books - although you might've spotted cabinet versions occupying the dusty corners of run-down Spanish hotel lunch halls, a game I've taken to playing in recent years - they once towered over their peers; not always in quality, but always in price. In fact, if you wanted a NEOGEO game in the early 90s, you'd be looking at forking over upwards of £200, which, according to this online calculator, equates to just over £400 in today's moolah. Wow.
You can pay a little less, if you like, while simultaneously supporting the American Red Cross in the Humble NEOGEO 25th Anniversary Bundle which runs until December 22nd.