Humble Indie Bundle 9 Expands, And In Style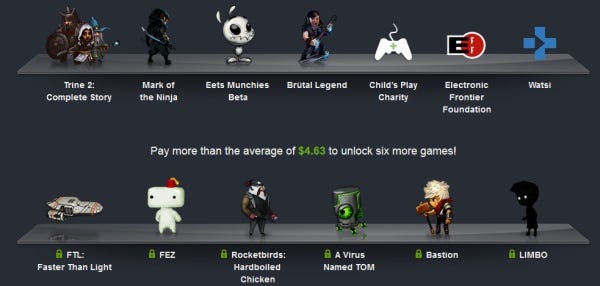 The Humble Indie Bundle 9 has, as you would have expected, updated. And I feel safe in saying it's now likely the best bundle there's ever been. Before you could pick up Trine 2, Mark Of The Ninja Eets Munchies Beta, Brutal Legend, FTL and FEZ for just a few coins. It was already pretty astonishing. A week in, and over half a million sales later, it's now added four new games, Rocketbirds: Hardboiled Chicken, A Virus Named TOM, Bastion, and LIMBO. Good heavens.
That's $195 worth of games and soundtracks. And $195 of some of the finest indie games about. You can pick up half of them for a cent (if you're a git), or get the whole lot by beating the average, which is currently $4.63. Anything over a dollar gets you Steam codes for the first four, and as usual they're all available as PC, Mac and Linux, and all DRM free.
I really thought the popularity of the Humbles would eventually wain, not least because of the ever-increasing numbers of bundle types. But it seems each time the Indie Bundle comes back, it outdoes itself. It's good to be wrong. At just over the halfway point this one has already made $2,428,000, and with the addition of names like Bastion and LIMBO can only rapidly escalate. That's a bunch of money going to Child's Play, the EFF and Watsi, and a lot of indie developers an awful lot richer. Which is just brilliant.