Inside Out, Round And Round: InnerSpace
Boy you turn me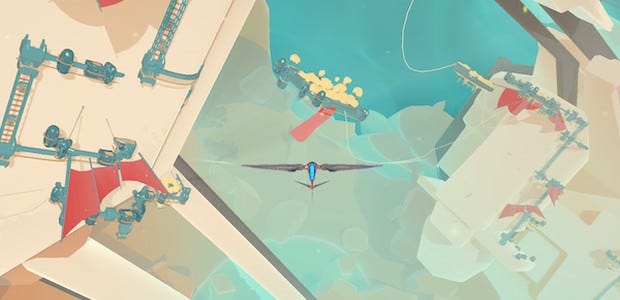 I love exploring walking simulators, but I often yearn for movement systems more interesting than placing one foot in front of the other. InnerSpace's "exploration-heavy flying" might satisfy. It's set inside an inverted planet, where gravity causes objects to fall away from its center and you're consequently surrounded by a bubble of water. Watch the soft hues of the trailer below.
InnerSpace isn't solely about piloting your submersible plane, though I wouldn't mind if it was. You'll also be using your "wing blades" to cut the ropes of objects tethered around the environment, machineguns whose fire rate increases the faster you fly, and destructible environments.
But it looks lovely, which is what interests me. There's a little more info, a couple more screenshots and a beautiful GIF over at the game's site.