John And Kieron Argue About Limbo
I KNOW YOU ARE BUT WHAT AM I?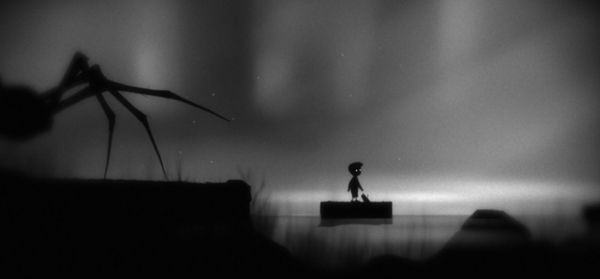 Having played and reviewed Limbo yesterday, John found himself at the end of Kieron's (particularly sweary) disagreement gun, and as is always the case the two of them argued about it. An argument that can only be shared with the world. Whose side are you on? FIGHT! (This contains significant spoilers, folks.)
Kieron: I should finish playing Limbo and do my evisceration of it.
John: Do you hate it?
Kieron: Moderately famously so.
John: Oh. Well, you're wrong, cos it's great.
Kieron: Rick Dangerous for Goths.
John: Except nothing like that.
Kieron: Total trial and error game with a dark, edgy aesthetic. It's incredibly mean spirited.
John: Have you read my review?
Kieron: Yes.
John: I'm fairly sure that's the point.
Kieron: You're forgiving it. I'm not.
John: I'm not forgiving. I'm recognising that it's deliberately forcing trial and error to change the atmosphere.
Kieron: It's a tosser of a designer laughing at you, every step of the way for being a fool. It's the world's most dickish DM.
John: It only comes in after you've started using dead bodies to walk on, caused people to be hanged to progress, etc.
Kieron: Edgy!
John: You're aware that's not an argument?
Kieron: I sort of suspected I'd hate it from the second I jumped off the first log and it kills you for it. "Prick" I think at the designer.
John: I'm not aware of a point where you die in that way.
Kieron: Go to the first log and jump off it. If you fall, you're fine. If you jump off it, you die, because you fall just too far. It's a designer who finds that kind of thing funny.
John: This does seem to be your issue rather than the game's. If a game is deliberately designed to have the design be mocking you, that's a clever experience. It's when it's because it's poorly thought through or badly made that it's an issue. You don't like being laughed at. Tough shit - get over yourself.
Kieron: Clever, but cuntish. And all about the designer. It's just Rick Dangerous with a different aesthetic. That's exactly how the game works.
John: No - all about the experience you're having. The designer isn't there.
Kieron: The designer is there. They created it.
John: Don't make me hit you with Barthes.
John: I'm amazed that a game fucking with you bothers you this much. Rick Dangerous was just badly made. Limbo is deliberate, and carefully timed.
Kieron: Firstly, It's your problem not the game's," is a silly argument. Of course it is. It's like me saying you giving Magna Cum Laude 3% for its outrageous sexism was your problem, not the game's. Something can be completely accomplished in what it's trying to do and still be rejected, because the philosophy the object expresses is vile. And you're deeply underestimating Rick Dangerous - it wasn't incompetent. It was how the designers thought games should be. They thought that killing you without warning was funny and did so with all the craft they could muster. Which sounds kinda familiar, doesn't it?
John: I think you're being a priss. The game one-ups you, and so you're trying to get it back.
Kieron: For a man who hates April Fools so much, it's an interesting argument to take.
John: Because there's no embarrassment or humiliation here. You go, "Oh, you fucker!" And then you adapt.
Kieron: As an aside, I'll admit that Limbo does its best to sell the joke - that its deaths are so well done tries to transfer death to a moment of joy.
John: Yes. Especially when you see entrails.
Kieron: But even then, I'm left rolling my eyes and thinking "Well done - you have complete control of reality and have managed to make me do something stupid. You must be a fucking genius! I'm so impressed. And with a dark and edgy aesthetic too!"
John: But that's the point! The whole game is about being controlled, about the mindlessness of going from left to right at any cost, for no purpose.
Kieron: So what?
John: The fact that you're dragging dead bodies to use as platforms in water before you reach any of the trial and error stuff - it's a really interesting statement on what we'll do to go from left to right.
Kieron: Or just gothic nonsense, seemingly powered and inspired by the same emotions which make kids tear legs off spiders.
John: See, it's too easy to say that. To sneer at the aesthetic because you don't like it messing with you just looks weak.
Kieron: I've written positively about sadistic games. And I've written about incredibly hard games.
John: If the game didn't mess with you this way, of COURSE you'd be praising how lovely the presentation is.
Kieron: I'd probably praise it anyway. But since I hate the game as a whole, I can use it as a symptom of a wider malaise in the developer's thinking. It's a coherent statement, sure - but it's a coherent statement I disagree with absolutely. Thinking this is a good idea is a terrible idea.
John: But you look like you're desperately clutching. "And... and... you've got a stupid hat!" Especially since it's not flipping gothic. It's just black and white. There's nothing gothic about it. It's noir, if anything.
Kieron: Nah, it's forming a coherent argument rejecting the whole thing.
John: It's not coherent to say, "And you've got a stupid face!" because someone annoyed you. It's silly.
Kieron: I may have read more pop gothic-aligned culture stuff than you, but the mixture of gore and death and sadism as comedy is pretty much how it's done. I mean, you read Johnny the Homicidal Maniac? This files next to that. Thinking about it, I'd do a compare and contrast with VVVVVV. As the "man can withstand anything but unfairness" line I came up in that does leap to mind. That the payoff of the "punchline" in Limbo is having to traipse through a bunch of stuff to try again. It's a waste of my time, because I'm only having to traipse through it again because the developer has forced me to do me so. And life's too short.
John: There are only two points in the game where it makes you traipse. Otherwise the checkpointing is perfect.
Kieron: Traipsing even across a screen when it's not my fault is a "fuck you". Don't waste my time.
John: Have you considered that the problem might be that you're just a big wuss baby?
Kieron: Says the man who doesn't like hard games. I do.
John: That's penises you're thinking of.
Kieron: I do like hard penises. This is also true. I just can't stand unfairness. It's a waste of my fucking time. And a developer who thinks wasting anyone's fucking time for (primarily) his own sadistic amusement? Fuck him.
John: Well, we're back at the start of the argument again.
Kieron: RICK DANGEROUS FOR GOTHS.