Kelvin And The Infamous Machine Now Time-Travelling
Laffo!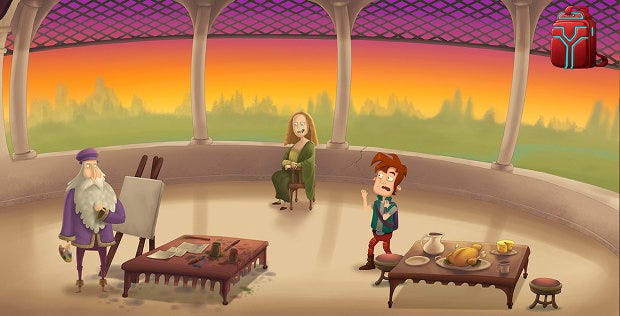 Kelvin and the Infamous Machine [official site] looks like the sort of simple, light, and mildy quirky adventure fit for the summer gaming season. The game stars Kelvin, who's a bit of a dunce. He serves as lab assistant to Dr. Edwin Lupin, who, while once probably a pretty nice guy, goes off the deep end when his time machine (which looks suspiciously like a shower) becomes the laughing stock of the scientific community. Kelvin becomes our unlikely hero when he's forced to stop Lupin from travelling back in time to interfere with history's great minds and their world-changing works.
The game pairs your standard pointing and clicking and puzzling with neat hand drawn artwork and a fair share of goofs. It reminds me a bit of Sierra's Pepper's Adventures in Time, but instead of hippy dippy American colonists, we've got a fumbling assistant from the present cracking wise with Sir Isaac Newton.
Kelvin and the Infamous Machine had its start on Kickstarter, where it raised $30,000 before making its way to Steam Early Access. John was quite pleased by the early version he played.
You can grab Kelvin and the Infamous Machine on Steam for £10.99/14,99€/$14.99. It's also available DRM-free through its site