King's Bounty Joins Facebook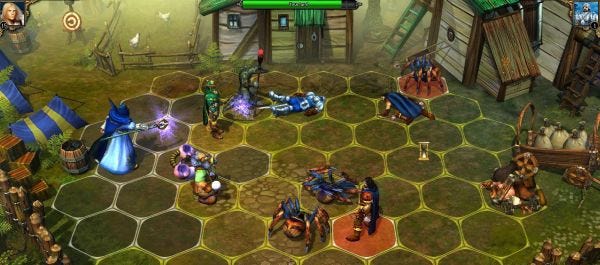 RPS favourite King's Bounty, as revived by Katauri Interactive, has been providing us with huge amounts of fun over the last few years. It even gave Alec a wife. Albeit a dead one. So it's with confusion that we meet news that publishers Nival have licensed the game from 1C and had a different team create a Facebook version: King's Bounty: Legions. We're genetically programmed to bristle at the thought of Facebook games, but we love playing King's Bounty. This is a strange feeling.
The game is to be multiplayer, embracing the social nature of Bookfacing, describing itself as "a turn-based social strategy game". The Summer release promises forty levels of an "extensive and witty storyline", with quests, tactical turn-based combat, including PvP, and the troop hiring that defines the series. It's all arriving in the Unity 3D engine.
And from the look of the screenshots, it's not just the name that's been licensed. It seems they've got all the assets from Katauri's games too.
Naturally it's going to be "freemium", free to play, but with purchasable in-game items. What those items are we don't yet know. If they're belts with adventures inside, it'll be tempting. This is coming from KranX Productions, a Russian team who focus on online games, and has nothing to do with Katauri, who are busy focusing on their MMO, Royal Quest.
The big question I have is: will it be silly? It's a nuanced place that Katauri discovered with their charmingly daft games, and one I fear would be too easy to miss. Let's hope that KranX get it, and get it right.