Lara Croft GO: Mirror of Spirits expansion out free today
Shining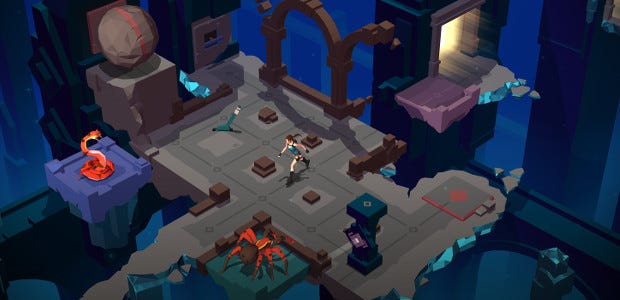 Lara Croft and her spooky doppelganger return today in The Mirror of Spirits, a free new chapter for Lara Croft GO [official site]. Our John has declared the turn-based Raider "about as close to perfect as games can get" so coo, more of that sounds good.Here, get a peek at the reflective new puzzles in this trailer:
The Mirror of Spirits is the final chapter of Lara Croft GO, Square Enix say. They also say:
"2016 marked the 20-year anniversary of Tomb Raider, and we wanted to celebrate the franchise's rich history in our own way. Hence, The Mirror of Spirits is heavily inspired by the Croft Manor and classic encounters with Lara's doppelgänger. This new chapter includes over 25 puzzles, completely new mechanics, and a new artifact to collect."
The Mirror of Spirits debuted in the game's PlayStation release last year, and today arrives on PC. The expansion is made in collaboration with KO-OP Mode, the makers of upcoming puzzlehead game GNOG.
Lara Croft GO is £7.99/9,99€/$9.99 on Steam for Windows, Mac, and Linux. If this is the last of Lara Croft GO, hey, maybe Squeenix will start talking about a PC release for Deus Ex GO, which snuck onto pocket telephones in August 2016.
[Disclosure: I once slept through almost all of a party several KO-OP Moders attended at an Airbnb where I was staying. When my jetlagged arse woke up in the middle of the night, I stumbled into the kitchen to find a table surrounded by tired people and covered in Anchor Steam bottle caps and deflating balloons. I'm told I missed an astonishing magic trick.]