Larkin About: Papo & Yo Available For $1
I'd buy that for a dollar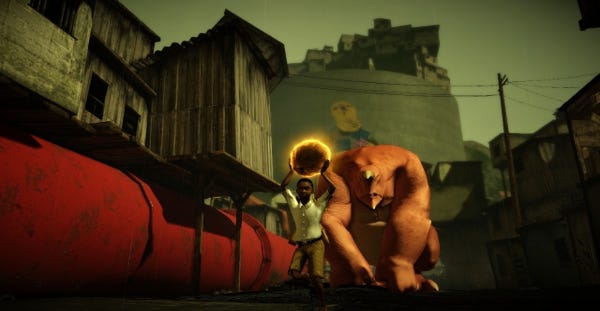 Papo & Yo is a personal game, using the tale of a monster and a boy to touch on creator Vander Caballero's upbringing. It's a story of affection, protection, alcoholism and abuse, set in a dreamlike favela. Nathan found the experience powerful:
"That relationship, then, lies at the heart of Papo & Yo, weaving an extremely personal thread through both story and gameplay mechanics. But does it bind them together or leave them straining at the seams?"
You can read his thoughts here to learn more but SPOILER ALERT he decides that the seams are strained, describing the actual puzzling and platforming as 'exceedingly mediocre'. That said, it's not often we see this sort of story in a game and even if it falters in places, the experience still sounds worthwhile. Especially when you can pay what you want (minimum of $1) for the next three and a half days over at IndieGameStand.
Papo & Yo is also part of the current Steam sale and the IndieGameStand deal will actually supply a Steam key. If you want to be stingy though, you can buy it slightly cheaper through Steam. Beating the average (currently $1.20) nets a soundtrack and there are other $10-plus tiers as well.
I picked this one out because it's the kind of game that a lot of people (like myself) might have skipped at full price, despite some interest. Also, Caballero's next game looks interesting so have a read about that.