Let Slip The Whals of Star: Starwhal Releases Very Soon
Tusk the ticket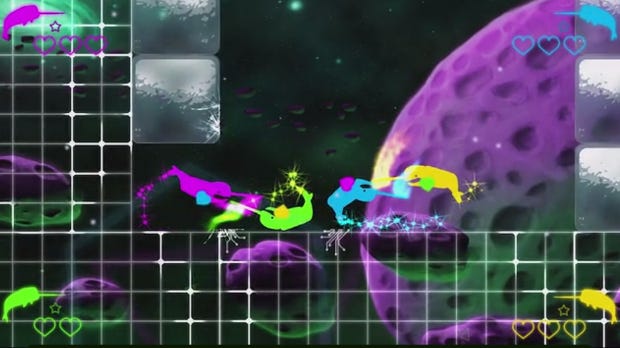 First Nidhogg finally became a reality for all and sundry, and now Starwhal has decided upon a release date too. It's quite the month-ish for offbeat, high-skill melee games. Two-to-four-player, QWOPish, psychedelic whale-battler Starwhal: Just The Tip has gone from gamejammed quickie to decent Kickstarter success to A Thing That Is Being Released On February 17.
Put your horns in the air to celebrate. Missus.

Inevitably, it's Steam Early Access rather than full release for now. I keep wanting to say rude things about Early Access, but I worry that maybe one day I'll need it for the cat game I'm slowly making and then a bunch of strangers will call me a hypocrite. Maybe I'd better hedge some bets: Early Access can be good and Early Access can be bad. Sometimes it can be a bit of both. I just want to be friends with everyone.
Starwhal's status is described as "a playable yet unfinished version of the game. We need more time to finish this project, but we at least want to get you guys playing what's available as soon as we can. We'll be launching the game with 2 multi-player modes at first then slowly rolling out the remaining modes as time goes on. Later we'll also add new levels, new costumes, and other goodies."
If you missed all the fuss, this is a 'local multiplayer' game, which means basically playing it from your sofa, though it hit enough stretch goals that there'll be some singleplayer challenge modes in there further down the line.
Here's a more visual reminder of what it's all about:
Oh, whoops, that's not it. Silly me!
Here you go:
That becomes a reality on February 17, on both PC and Mac flavours of Steam.