Life of Tar takes a journey through sticky prehistory
Crystal caves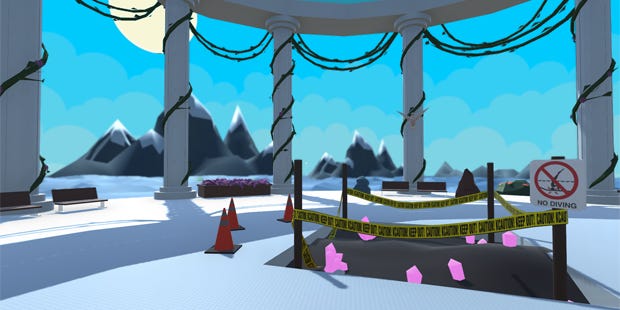 Life of Tar [itch.io link] is an itch.io game which caught my eye because of a) its art style and b) it lists the La Brea Tar Pits as an influence. It's a short cycle where you potter around environments gated by portals of sticky tar. It made for a really pleasant short game walk too so I made a little video!
Sorry about the audio balance, it's a bit hard to hear the commentary in places but I've fixed it for the next time! Anyway, here's what the dev team say about the experience:
A team of eight designers (three Interior, three Animation, and two Game) from The University of Wisconsin-Stout went out to Los Angeles for two and a half weeks to tour studios and museums. Once we were back in the studio, we created an experience based off of what we saw out in California, featuring architecture and inspiration from sites like the La Brea Tar Pits, Museum of Neon Art, The Griffith Observatory, and the Huntington.
The game also has Vive support but I don't have a working Vive so I can't report back on that front.
Oh, and the painting I was referencing was Piero della Francesca's The Baptism of Christ which you can find at the National Gallery in London.