Line Golfer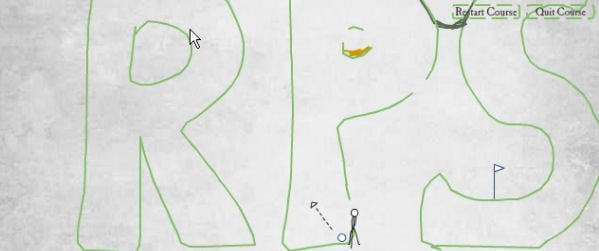 Via the magic of Indie Games, I found this rather intriguing little advert-cum-game on the Wrigley's site. It's a cute little golf game, where you draw your own course in the Flash window, and then play it. Create something great, like for instance the World Exclusive Rock, Paper, Shotgun course, and you can publish it for the world to play.
Clearly this is a way of getting people to link to the chewing gum giants, but hell - they made a nice little game. They win.
It's hand-drawn, which while clumsy compared to the sublime joy of Crayon Physics, makes it a lot more approachable than the average advergame.
To play our simply stunning course, click here. But I warn you, it will change your life forever.
Then it seems only reasonable that you design your own courses and post links in the comments below. A links links, if you will. Which you might.
(Fun fact. "rockpapershotgun" is apparently obscene, as it was refused as a name for the course. Who knew?)