Telltale And Lionsgate Mixing Games With Filmed Episodes
Super Shows, they call 'em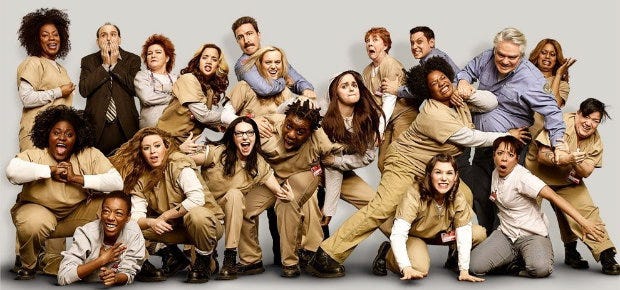 Mad Men, Orange Is the New Black, Nurse Jackie, Weeds, and other popular collections of moving pictures are not strictly connected to this, or I don't think they are, but they work all right as an intro. Lionsgate, the production company behind them (with distributing and producing fingers in film pies such as The Hunger Games too), have cosied up to Telltale Games. Lionsgate have "made a significant investment" in the Wolf Among Us and Walking Dead devs, they announced today.
Together, they plan to work on original creations and Telltale's idea for a part-game, part-filmed thingy episodic format called a 'Super Show'.
"A Super Whaaaa?" you may very well ask. Telltale CEO Kevin Bruner explains the idea in an interview with Entertainment Weekly:
"A 'Super Show" episode combines one part of interactive playable content with one part of scripted television style content. Both pieces, when combined together, are what make an actual Super Show 'episode.' As we've been developing the series, we're using both mediums in concert to deliver our story. Developing both aspects simultaneously is key to utilizing this new medium. Both parts are first class citizens during the writing and design process. It's not an interactive series with a show, or a TV show with a game, but a story integrated in a way that only Telltale can do. For us it's a very natural evolution of the interactive story telling expertise we've pioneered."
Telltale's first Super Show (which I stress is the name of the format) will be an original creation, not their usual licensed beat, but Bruner says they might make Super Shows in existing settings in future if it makes sense. What a curious thing.
The idea of blending video game and TV-style show has been tried before, but not in a satisfying way as far as I can remember. Defiance suffered from both a humdrum MMORPG and an unremarkable Syfy (that's the Sci-Fi Channel, for non-drektoids) TV show. Live & Kicking's phone-in Grabbit Rabbit was dire (yes, I know, shut up, this is simply so old people can mutter "Coo, I remember that from back before I became so old").
I'm jolly sceptical, but Lionsgate are good at television and Telltale are good at video games so... maybe this time? I don't have a good point of reference for this and they haven't really explained how a Super Show will work, so trying to imagine how good it might be is like grabbing at smoke.
Please, please do also make an Orange Is the New Black game about Alex Vause, Nicky, Poussey, and Flaca hanging out, chatting, and generally becoming super-best friends.