Mafia 3's Announcement Trailer Will Arrive August 5th
Which means it exists.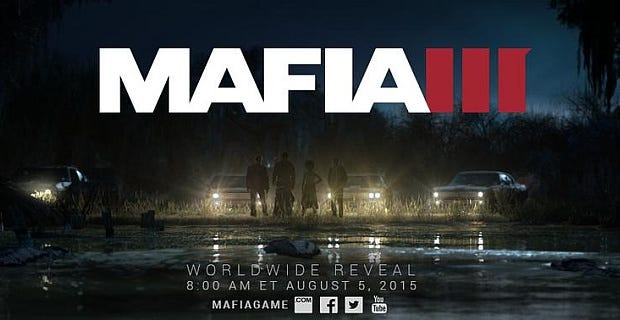 Last month a NeoGAF poster found that publisher 2K Games had pointed four domains at their own server: mafia3thegame.com, mafiaiiithegame.com, mafiathree.com, and mafiathreethegame.com. It was a baffling mystery that set alight the minds' of the world's greatest detectives and the games press. The clues were right in front of us all but what did they mean? Now we've discovered a second sign (via the Mafia Twitter account): Mafia 3's first trailer will be released next Wednesday, August 5th at 1pm BST.
The plot thickens.
Here's the tweet:
See the worldwide reveal of the #Mafia3 announcement trailer on 8/5/15 here: http://t.co/sZ71Hl24i5 pic.twitter.com/1T4bdzBFIq

— Mafia Game (@mafiagame) July 28, 2015
My numerology is rusty but 8 divided by 5 divided by 15 is 0.10666666666. Obviously you remove everything before the decimal and the first four digits (four domains???) are 1066. 1066 was the year of the Battle of Hastings and the beginning of the Norman invasion of England. Norman Reedus was to star in the now-cancelled new Silent Hill videogame, which was being made as a collaboration between Hideo Kojima and film director Guillermo Del Toro. Kojima is currently rumoured to be at loggerheads with publisher Konami and it seems as if Metal Gear Solid V: The Phantom Pain, due for release later this year, might be his last work on the series. Coincidence?????
Help me out here people: what am I missing? What is the significance of next week's "industry gathering" "Gamescom" and Mafia 3's [official site] appearance there at "a behind-closed-doors presentation"? Will the game's development by Haden Blackman's Hangar 13 Games studio instead of (or as well as????? or instead of?????) series creators Illusion Softworks/2K Czech mean that Mafia 3 will be better received than Mafia 2 was? Or even be as good as Mafia 1 was?
I love a good marketing ARG. I'll bring the corkboard and balls of string, you get the coffee. Let's crack this code in the comments.