Maniac Mansion 3 By Any Other Name: Thimbleweed Park
The Secret Of Maniac Peaks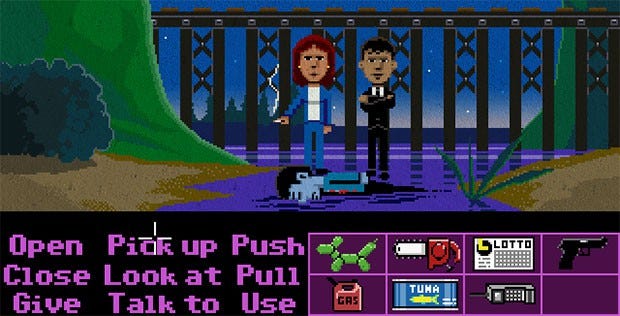 Just when you thought it was safe to go back into the crowdfunding waters - the Old Men Of Videogames are back, and they want your cash so they can pick up where they left off. Again. This time it's Ron Gilbert & Garry Winnick, creators of Lucasarts point'n'click grandparent Maniac Mansion (not to mention a little game called Monkey Island), and they're after $375k to make a spiritual sequel named Thimbleweed Park.

A couple of years ago, this would have been cause to take the Happy-tank for a turn around around the block, but after Double Fine's massively multi-funded Broken Age somewhat underwhelmed it's perhaps hard to raise quite the same enthusiasm for another Lucasarts revival effort. Still, I'm not sure we've seen Gilbert and his fizzing imagination working entirely on his own ticket, free from traditional commercial expectations or studio constructs, so plenty of reasons to be optimistic despite past burns.
Let's take a look:
That sure looks like a 90s SCUMM game, eh? Retromancy has its upsides and retromancy has its downsides, but at least this lo-fi approach means there's less risk of eyes-bigger-than-stomach than some other projects. Gilbert and Winnick will be the core of the team apparently, so $375,000 might even be a realistic amount of money to get it made.
The pitch, which is currently $114k in after just one night so will almost certainly succeed, pointedly avoids making any promises about genre reinvention or visiting strange new worlds of pointy-clicking. It's straight-up 'classic' adventure gaming from the blokes who played a big part in inventing that stuff.
Fortunately, it's not quite 'hey, look, it's like Monkey Island in a different setting!" and instead harkens back primarily to Maniac Mansion (and to a lesser extent its sequel Day of the Tentacle), with its multiple protagonists and more convoluted puzzles. It's also a oddball murder mystery that might have a touch of the Twin Peaks to it. Here's the summary:
"Thimbleweed Park is the curious story of two washed up detectives called in to investigate a dead body found in the river just outside of town. It's a game where you switch between five playable characters while uncovering the dark, satirical and bizarre world of Thimbleweed Park.

Lost along a dusty stretch of highway, the town of Thimbleweed Park once boasted an opulent hotel, a vibrant business district and the state's largest pillow factory, but now teeters on the edge of oblivion and continues to exist for no real reason. It's a town that makes you itch and your skin crawl. It's a place no one ever looks for, but everyone seems to find. "
Multiple endings, a big, long story, hundreds of locations and easy and hard modes are promised.
One of the early reward tiers promises and absolution of guilt for pirating Monkey Island, so I guess if you back this you can stop having nightmares about that photocopied code wheel you had in the 90s.
Also, the copyright caption on this makes me feel so weird: