Marvel Heroes closes early as developers shut down
Clunk! Klonk! Ouch-eth!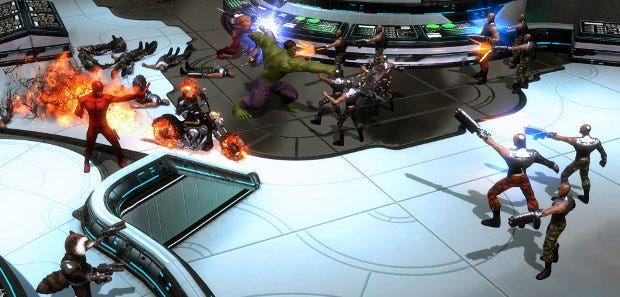 Gazillion Entertainment, the makers of Marvel Heroes, have shut down. This means the free-to-play superhero action-RPG has also shut down, one month earlier than it was supposed to. Disney, who own Marvel, had announced earlier this month that they were breaking up their partnership with Gazillion and so the game would shut down on December 31st. But losing their big gig meant that Gazillion needed to shut down, and with no one left to run the game it's gone now too. This has gone badly for everyone.
Gazillion announced the bad news in a tweeted statement last night:
"It is with great sadness that we announce the closing of Gazillion Entertainment. As a result, we are no longer able to operate Marvel heroes Omega until December 31 as originally planned. Instead, Marvel Heroes Omega will be sunset immediately on all platforms and will no longer be available as this process is completed. The company would like to sincerely thank its fans and employees for all the support over years of development and live service."
Marvel Heroes is now gone and can no longer be played. Its site is gone. Its forums are gone. Its Steam page is gone. It is gone. Anything you had unlocked or bought is gone. It's gone.
Most people working at Gazillion lost their jobs last week. Some say they weren't paid severance and also lost paid time off they were owed. and this means losing health insurance too. All that right before Thanksgiving and with Christmas coming. Best of luck to everyone affected.