Masquerada: Songs And Shadows Is Finally Here
Deep within the villa of Ombre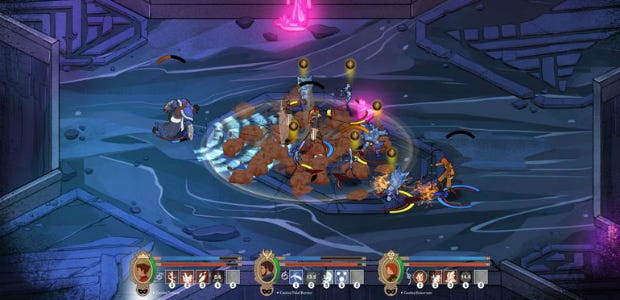 Masquerada: Songs and Shadows [official site] takes me back to those shining days where I could mess about and play games like Arcanum and Nox all the time without worrying about paying bills. I still do those things, but bills are an unfortunate part of my daily life now. Soon, I imagine, Masquerada will be as well, as the tactical RPG is out.
The release trailer shows off some particularly colorful graphic novel-like cut scenes as well as what seems like a fairly complex narrative by way of Witching Hour Games (who you might know from their Ravenmark mobile games). Personally, I really dig the faux-cel shading and costumes as well as the tactical combat system, where you can pause the action while planning your next move. Hey, there's also a flaming scythe. That's something I can certainly get behind.
Its voice cast includes Matthew Mercer (Leon S. Kennedy) and Jennifer Hale (Commander Shepard, and nearly everyone else in everything) too.
You can pick up Masquerada: Songs and Shadows on Steam and GOG now for Windows and Mac. It costs £18.99/22,99€/$24.99 on Steam and a bit more on GOG.
[Disclosure: Former RPS contributor Cassandra Khaw currently works with publishers Ysbryd Games.]